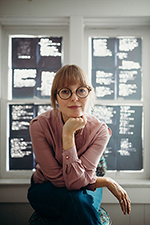 Malahat Review past poetry and fiction board intern Michelle Ha talks with the Long Poem Prize co-winner. Read her winning poem, "Legs," in our upcoming summer issue #215.
MH: I'm very interested in the inspiration behind "Legs," and the themes it explores. What were some influences or inspirations that led you to write this piece? Were there any considerable struggles that you faced while writing it?
JS: All my work in the last six years processes the loss of my mother. "Legs" feels almost like a table of contents of what I've written over hundreds of pages. As though each line holds the force of all that grief behind it. All that nonlinear story. I can feel the tension of my entire manuscript in "Legs" and this gives me hope. That I might have come full circle. That I'm orbiting something.
All my work cheers for the mothers. I'm thinking of the maternal body as home. How we circle, pull from, measure ourselves against the mother. Her textures and tones, internal and external, cellular and atmospheric, a layer of self that we are always trying to get at, arrive to, separate from. When she is gone, what is our gravity? How do we negotiate her absence? Is it in fact an absence or has something new moved in?
Possibly I'm talking about a confusion between self and mother too. We want to be our mothers and anything but them. More than them. We are drawn to and repulsed by them. How we think of our mothers may be an indication of how we think of ourselves. Do the stories we tell about our mothers reflect the possibilities we imagine for ourselves? Can we grow beyond our mothers? Do we want to?
Read the rest of Jennifer Still's interview.