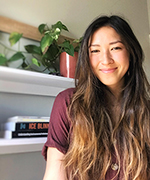 Malahat Review Managing Editor L'Amour Lisik talks with the spring issue #214 contributor about Mauritius, methods for discovering a poem's form, and memory as a molecule of water.
LL: "Lessons in Southern Water Cycles" begins in Pereybère, Mauritius—a small volcanic island off the coast of Madagascar, in the Indian Ocean—and makes its way to Northern Ontario. As someone who's also part of the Chinese-Mauritian diaspora, sense of place is something I seek out when I read. How important is sense of place in your writing? Are there any writers who you look to for inspiration?
RNCH: It's always exciting to meet other members of the Chinese-Mauritian community! My concept of place is constantly shifting as I think "place" can mean many different things. A place can be a physical location, a person, a point in one's deep sense memory, a moment in time – or all of these things in flux with one another. And perhaps places can be returned to, forgotten, longed for…they can decay and they can re-manifest in one's life – or come back alive, as this poem suggests – many generations later. Like many island nations, Mauritius is so small that I've seen it omitted from children's globes and pocket atlases as though its existence is arbitrary. The concept of place, in its many forms, is important in these poems because it allows for a reconstitution of this very real island that is raw with family histories, traditions, cultures, and imperial traumas. I think place also forces us to ask ourselves certain questions – how are we subconsciously negotiating and re-negotiating our identities in relation to place? In what ways are we, as diasporic people, tempted to exotify ancestral places? In what ways is the concept of place violent? There are so many writers I look to for inspiration when it comes to holding the reader with care in a specific place, or creating a dislocation from place – Kaie Kellough, Kevin Adonis Browne, Louise B. Halfe, Canisia Lubrin, Don Domanski, and others. In their different ways they are able to take the reader and ground them in a physical, temporal, sensory, or cultural place, and ask, who are you now, and what have you left behind?
Read the rest of Rhiannon Ng Cheng Hin's interview.