Perpetual Fluidity: L'Amour Lisik in Conversation with Rhiannon Ng Cheng Hin
Rhiannon Ng Cheng Hin, whose poems "Thaw," "Circadian Rain," and "Lessons in Southern Water Cycles" appear in The Malahat Review's spring issue #214, discusses Mauritius, methods for discovering a poem's form, and memory as a molecule of water in her Q&A with Malahat Review Managing Editor L'Amour Lisik. Read "Lessons in Southern Water Cycles" here.
Rhiannon Ng Cheng Hin was born in Scotland and raised on the unceded, unsurrendered territory of the Algonquin Anishinaabe Nation (Ottawa Valley). Her poetry has appeared in PRISM International, Arc Poetry Magazine, Gutter, Lake Effect, and elsewhere, and her poem "coefficients of friction" was shortlisted for the 2020 Ralph Gustafson Poetry Prize. She was selected by Liz Howard for the Writers' Trust of Canada Poetry Mentorship in 2020 and recently completed the manuscript for her debut poetry collection. Her writing explores family relationships, queerness, the Chinese-Mauritian diaspora, scientific theory, and climate disaster. She is currently a graduate student in chemical & environmental toxicology at the University of Ottawa. 

"Lessons in Southern Water Cycles" begins in Pereybère, Mauritius—a small volcanic island off the coast of Madagascar, in the Indian Ocean—and makes its way to Northern Ontario. As someone who's also part of the Chinese-Mauritian diaspora and raised in Canada, sense of place is something I seek out when I read. How important is sense of place in your writing? Are there any writers who you look to for inspiration when it comes to grounding the reader in a specific place?
It's always exciting to meet other members of the Chinese-Mauritian community! My concept of place is constantly shifting as I think "place" can mean many different things. A place can be a physical location, a person, a point in one's deep sense memory, a moment in time – or all of these things in flux with one another. And perhaps places can be returned to, forgotten, longed for…they can decay and they can re-manifest in one's life – or come back alive, as this poem suggests – many generations later. Like many island nations, Mauritius is so small that I've seen it omitted from children's globes and pocket atlases as though its existence is arbitrary. The concept of place, in its many forms, is important in these poems because it allows for a reconstitution of this very real island that is raw with family histories, traditions, cultures, and imperial traumas. I think place also forces us to ask ourselves certain questions – how are we subconsciously negotiating and re-negotiating our identities in relation to place? In what ways are we, as diasporic people, tempted to exotify ancestral places? In what ways is the concept of place violent? There are so many writers I look to for inspiration when it comes to holding the reader with care in a specific place, or creating a dislocation from place – Kaie Kellough, Kevin Adonis Browne, Louise B. Halfe, Canisia Lubrin, Don Domanski, and others. In their different ways they are able to take the reader and ground them in a physical, temporal, sensory, or cultural place, and ask, who are you now, and what have you left behind?
The stanza structure in "Thaw" beautifully reflects the subject matter. Each stanza begins with a single isolated word ("motion," or "margins," or "indelicacy"), followed by three longer lines. The stop-and-start rhythm echoes the spring thaw described in the first sentence of the poem: "snow / drips from suburban eaves." When you compose poems, do you instinctively know which form they should take, or does that come later, in the editing process?
Thank you. I think I am still trying to find a tried and true method for discovering a poem's form, to be quite honest! Each poem has its own origins and spins its own thread of images and stories, so I think it is natural that each poem will reveal its shape at a different point in the process. While writing "Thaw," I was drawn to the image of ice shedding layers in lateral sheaths, and the shape of the poem emerged naturally early on – though it took several rounds of edits to sculpt the stanzas to their final forms. Other times it isn't until I've left a poem alone for a few weeks that the form becomes clear. When looking at the way a poem takes shape, I try to ask myself – does this shape reflect what the poem is trying to say, or does it just kind of look cool? It's so much fun to experiment with form, but I'm learning that it doesn't always work for me to try wrangling a poem into a shape that doesn't come naturally. Like trying to force a cat into a sleeping position!
Water is a recurring image throughout your three poems: oceans, archipelagos, rain, snow, clouds. What drew you to this theme, and is it a main theme in your debut poetry collection as well? Can you tell us more about your poetry collection?
Yes! This forthcoming collection follows three generations of Mauritian women on the course of dispersing, settling, and rooting over northern landscapes. It is an exploration of family history, of ruptured place, of Chinese tradition, of parent-child relationships, of queerness…and throughout the poems, water returns as a medium for the movement of people and memories through the years. In these poems, water bridges the gap between both physical and temporal place. I'm drawn to water as a physical embodiment of time, because I think that, like the water cycle, time is neither chronological nor linear. In this book, a moment in time is akin to a molecule of water cycling through salt marshes and seabeds, clinging to the cracked hulls of sailboats or the petals of dead flowers, seasoned by sunlight and dirt, before finding us again in our lives wherever we are. Like memory, a molecule of water cannot be created or destroyed, but exists in perpetual fluidity between forms. This poetry collection spans generations, yet in reality, all of this family's history is unravelling at once, and as each moment evaporates, travels, and distills, it re-appears again and again through these women's lives in its countless forms, shifting in meaning each time.
What are you reading right now, and what's in your to-read pile?
At the moment I'm reading a biography of Rosalind Franklin (Rosalind Franklin and DNA) by one of her friends, Anne Sayre. On top of my to-read pile I have The Exhibitionist by Molly Cross-Blanchard, ZOM-FAM by Kama La Mackerel, The Glass Constellation by Arthur Sze, and Return of the Trickster by Eden Robinson. I'm also looking forward to reading Letters in a Bruised Cosmos by Liz Howard when it comes out this summer.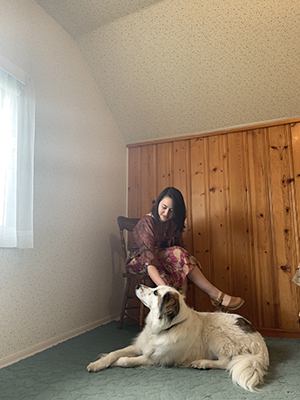 L'Amour Lisik
* * * * * * * *