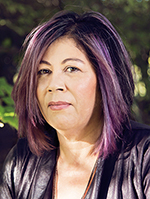 Malahat Review volunteer Emma Skagen talks with the 2020 Constance Rooke CNF Prize contest judge about what she's looking for in a winning piece, trusting the reader, and using a contest deadline as motivation.

ES: What do you hope to find in a winning piece of creative nonfiction? In your view, are there particular features that can make (or break) a CNF piece?
RM: I'm trying not to go in with expectations. I can say that I'm drawn to writing that grabs me from the first sentence and doesn't let go until the very end. I appreciate innovation whether it be in form or content. It's not about a specific subject matter, but work that is compelling.

Particular features that can make a CNF piece: the attention given to language, and to form as well as content.

For me, what can break a CNF piece is overwriting—not trusting the reader to make connections and to find meaning in a piece.
Read the rest of Rowan's interview on TMR's website.
Spring Issue Interview with Manahil Bandukwala on Poetry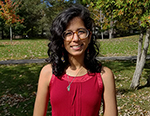 Malahat Review poetry board member Jay Ruzesky talks with the issue #210 contributor about recognition, fighting against self-censoring, and the personal experience that inspired her poem. Read "To ride an art horse" in our spring issue #210.

JR: "To ride an art horse" is the first poem in The Malahat Review's issue 210 and I think we're lucky to have it. The poem was longlisted for the 2019 CBC Poetry Prize. Could you say something about what "recognition" means to you as a poet—is it important to be on that prize list or to publish poems in magazines you care about?
MB: Recognition is an interesting word to consider. I definitely feel as though I've gotten more attention since being on the CBC Poetry Prize longlist. For example, CBC featured my online reading for rob mclennan's periodicities journal as part of their digital readings during Covid series. But that was also the first (and so far, only) prize I've paid to enter. While being on that prize list can help, getting on multiple prize lists can be somewhat inaccessible. But for magazines, charging entry fees for prizes is a way to generate subscriptions. Working behind the scenes on contests for both Arc Poetry Magazine and Canthius has shown how important those subscriptions are for a magazine's survival.

This past year, I've gotten more work published in "dream" magazines, including The Malahat Review! Those recognitions have been super meaningful to me—seeing magazines that I really admire receive my work with so much enthusiasm is wonderful. I still have quite a bit of imposter syndrome when it comes to my writing, so that validation and recognition is a nice surprise to me.