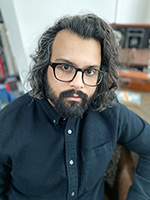 Malahat Review volunteer and past work study student Stephen Leckie talks with the Issue #209 contributor about belonging, becoming, and blending time, reality, and fantasy in his poems, "bottle rocket" and "unsaid."
SL: I am left with a fraught nostalgia for the time and place of these works. I wouldn't presume that the poems are completely biographical, but how do you relate to the poems' speakers? In what ways do you express your art as narrator, observer, and poet?
KS: I like the term "fraught nostalgia," it makes me think of trauma and the resultant surrealism in associated memories. Like a vintage dream, or nightmare.
When I'm writing a piece I often find myself propositioned by a rabbit hole of selves from different times/perspectives, some are mine and some are others. I'm never quite sure entirely who'll end up speaking in the end. As I was discovering speakers for "unsaid" and "bottle rocket," I tried to focus on the moments, and let the course of working the words reveal speaker(s) organically.
Most of my poems are quite long before I find the right voices and contract them. Often a work produces layers of speakers who are a blend of times, real and fantasy selves. This was the case for both "unsaid" and "bottle rocket."
Read the rest of Kulbir's interview on TMR's website.