Only Three Weeks Until February 1 Deadline!
Sit down for a *long* writing session and send us your best work! How long is a long poem? We're looking for a single poem or cycle of poems between 10 and 20 pages long (360 to 720 lines in total). No restrictions as to subject matter or aesthetic approach apply.
Entry fee (comes with a one-year print subscription):
$35 CAD for Canadian entries
$40 USD for entries from the USA
$45 USD for entries from elsewhere
Two prizes of $1,000 will be awarded, and both winners will be interviewed for the Malahat's website and newsletter. Winning poems will appear in the Summer 2019 issue.
Read interviews with the three judges: Jordan Abel, Sonnet L'Abbé, and Gillian Sze.
Full contest information on the Malahat Review website.
Interview with 2018 Constance Rooke CNF Prize Winner Rowan McCandless
Malahat Review volunteer Stephanie Harrington discusses the hermit crab essay form, settler euro-colonialism, and writing about trauma in Rowan McCandless' winning essay, "Found Objects."
SH: "Found Objects" examines a sexual assault you experienced as a teenager and the horrendous consequences of the crime on your psyche. Your essay uses the structure of an archaeological field study. Where did your idea for the structure originate?
RM: I was fortunate to have taken Nicole Breit's online course, Creative Nonfiction Outliers, in which we examined and wrote essays using a variety of experimental forms. "Found Objects" began as a writing assignment in this course.
I was particularly drawn to the hermit crab essay, in which the personal narrative is held within an adopted structure that supports the content. Having begun Nicole's course after a recent move, I was unpacking boxes when I discovered a series of letters written during the summer I turned sixteen while working on an archaeological dig. It dawned on me that I could use the framework of an archaeological field study to relate my experience of having been sexually assaulted as a teenager while employed during that dig. Once I had the structure, the elements fell into place.
Read the rest of Rowan's interview on the Malahat website.
Queer Perspectives Issue Interview with Francesca Ekwuyasi on Fiction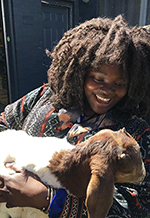 Malahat Review fiction board intern Holly Lam talks with Francesca Ekwuyasi about the intersection of queerness and faith, happy endings, and the evolution of her story, "Good Soil."
HL: Lucky fixates on fact and truth, yet struggles between truths within herself: her queerness and her faith, among others. Is it possible for Lucky to make a choice between the two, or to reach some sort of reconciliation? Is that the question "Good Soil" tries to answer?

FE: "Good Soil" is asking the same questions, yes. I don't know that it answers them at all. [...] I think that seeking answers is the whole point of the story or the journey. I believe that Lucky could probably reach a sort of reconciliation, but not without sacrificing her relationship with her mother, or her relationship with Shalom, or disappointing Afolabi, or believing that in some ways she's disappointing her creator. That's the thing about dogmatic religions, or more accurately dogmatic interpretations of faith practices; it may take a lifetime to deprogram all that indoctrination.

Or, one could always just live with the tension that those contradictions tend to create in a body and a life; I think many of us do that, it makes for interesting art.
Read the rest of Francesca's interview on the Malahat website.
Queer Perspectives Issue Interview with Billeh Nickerson on Poetry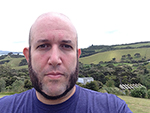 Malahat Review Marketing & Promotions Assistant Safiya Hopfe talks with Billeh Nickerson about lyric essays, LGBTQ+ writers, and non-linear writing in his poem/lyric essay, "Skies."
SH: Your piece "Skies" tells the story of a father and son, and the child's experience growing up, through expansive and abstract images of heights, flight, and the sky. Were you thinking in the context of this theme when you first started writing, or did it materialize later?
BN: I started writing this piece about twenty years ago. It morphed into something much different during that time, but the one consistent image was me looking up at the sky checking for my father's plane. Let's just say I've lived a lot of life and read a lot of books during those twenty years. This piece is most definitely inspired by Anne Carson and John D'Agata—wonderful practitioners of the lyric essay form. The images stem from my meditation on the various skies I—and my father—have experienced. The piece is only a response to an interview Eileen Myles gave on the topic of skies.
Read the rest of Billeh's interview on the Malahat website.