Deadline Extended to November 5 at Midnight!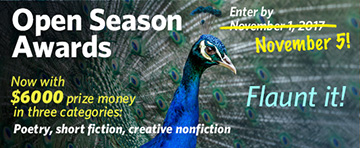 Entry fee (comes with a one-year subscription):
$35 CAD for Canadian entries
$40 USD for entries from the USA
$45 USD for entries from elsewhere
Additional entries cost $10 CAD from anywhere, no limit!
Keep your eyes on this year's BIG prize: three awards of $2000! Our annual Open Season Contest is underway, and writers of all levels are invited to enter poetry, fiction, and/or creative nonfiction. There's no theme or specific criteria for this contest, so go wild and send us your best work.
Final judges are Evelyn Lau (poetry), Carleigh Baker (fiction), and Betsy Warland (creative nonfiction). Click their names to read interviews with the judges on what they'll be looking for in this year's submissions.
Full contest guidelines available on the Malahat website.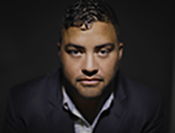 Malahat poetry board member David Eso talks with Shane Book about his poetic influences, his return to the University of Victoria to teach poetry, and his two poems, "S.T.A.R.S." and "Beast Friend," published in Issue #200.
DE: Given the influences from wide-ranging communities you have just described, I am curious about your own practice. What were some watersheds in the development of your vocation during your years in the U.S. — or perhaps earlier — that are given life in these two poems?
SB: One major moment for me as a poet was coming to UVic's Department of Writing as an undergrad and taking a poetry class with Lorna Crozier. I applied to UVic to study and write fiction. I took the poetry class because I thought it would help me write better sentences. Lorna's passion for the art and her patience and willingness to call us out for lazy writing as well as the intellectual debates we had in the class caused me to become fascinated by poetry. Then I took a class with Patrick Lane and my fate was sealed.
Read the rest of Shane's interview on the Malahat website.
Autumn Issue Interview with Madeline Sonik on Creative Nonfiction
Malahat CNF board member Frances Backhouse talks with Madeline Sonik about childhood curiosity, historical context, and psychic distance in her essay "Stay Sick, Turn Blue," published in Issue #200.

FB: How do you conduct research for essays that are grounded in distant memories, like "Stay Sick, Turn Blue"?

MS: What I find most helpful for these sorts of pieces, ones that exist in a time before I began keeping a daily journal, are photographs, old songs, comic books I once read, early television shows we watched. These sorts of things open the floodgates on memory, and then, as you write, you discover all kinds of things coming back—even actual things that were said. It's kind of like harvesting your dreams. If you can recall just a fragment of a dream and write it down, the rest of the dream frequently returns.
Read the rest of Madeline's interview on the Malahat website.
Autumn Issue Interview with Arleen Paré on Poetry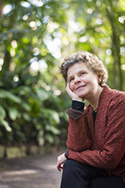 Malahat poetry board member Samantha Ainsworth talks with Arleen Paré about the practicality of poetry, poetic influences, and the flaura and fauna in her poem "Come the Ungulate," published in Issue #200.
SA: Your poetic works garner respect, prizes, and awards. Have you always been interested in (writing) poetry? What drew you to this genre?
AP: I didn't start writing poetry until I was in my fifth decade.  Nor did I read very much poetry.  My decision to start writing poetry was a practical decision, strangely. I say "strangely" because poets are not known for their practicality.  It happened this way: in a moment of hubris, I began to write a novel immediately after I had completed my MA degree, partly because writing the MA thesis was, strangely, such a rewarding experience. I was working nine-to-five at the time.  I joined a writing group.  But I could not keep up sufficient novel production to bring coherent novel passages to the monthly writing group, so I wrote poetry for the group instead.  Poetry is usually, blessedly, shorter.  And so, I became a poet.