The 50 Issues Project
Issue #160
Issue Date: Fall, 2007
Editor: John Barton
Pages: 184
Number of contributors: 44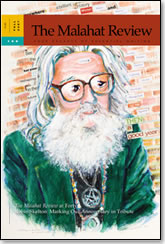 Who was Robin Skelton, as a man, a boy, poet, student, and teacher? Yvonne Owens declares Robin sang his poems "like a jazz saxophonist blowing a mellow, honeyed rift," after the first time she heard him read his poetry, "many years ago."  At one time he was, "a pallid, bespectacled student who turned out to be a good poet and critic," according to James Kirkup, an early teacher of Skelton's. 
This issue, dedicated to his memory, was published on the tenth anniversary of Skelton's death and the fortieth anniversary of The Malahat Review, which he founded. Current editor John Barton writes of meeting Selkton during Barton's university years, in the then four-year-old writing program at the University of Victoria. Rich with praise, and best of all stories of one man's life, this issue continues the west coast legacy Skelton began all those years ago. "I am rather tired now; the bustle of beggars, the cries of red-smocked porters and unshaven sweepers, the jostlery of white robes and khaki tunics at the ticket grill — they have me wearied," from "The Road to Kandy," is an excerpt of previously unpublished prose from Skelton's unfinished memoir. 
Several mini-biographies included in this issue form a collage of Skelton and his contribution to literature on the west coast. Join the continuing discussion on "West Coast" writers and the "West Coast Renaissance" in Nicholas Bradley's review of The Malahat's themed issues which claimed what happened in Italy and Ireland  was happening on the west coast too but ultimately "demonstrate that the Pacific Coast has a long, varied, and noteworthy literary history," ("The Whole Storm of Mortal Conflict: Robin Skelton and West Coast Literature").  This issue includes Marion Beck, Rhonda Batchelor, A. F. Moritz, Charles Lillard, Susan Musgrave, Seán Virgo, Margaret Snow, Ron Smith, Diane Keating, Harold Rhenisch, and many others, as well as Anita Lahey's review of Skelton's posthumously published book of poems Facing the Light.

—Vanessa Herman
Have a look at our last featured issue, issue #159