The 50 Issues Project
Issue #159
Issue Date: Summer, 2007
Editor: John Barton
Pages: 112
Number of contributors: 17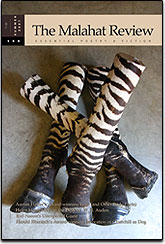 The Malahat Review celebrates forty years in print. Aurian Haller's Long Poem Prize and Gold National Magazine Award-winning poem, "Song of the Taxidermist," opens this summer issue with still life poems of mounted death. The notion of "a second chance at beauty" permeates each poem, the eye alighting on words and further, pieces of animals placed in a type of forever.
Harold Rhenisch—the other Long Poem winner for 2007—writes about his black dog, Winston, in "The Bone Yard." Rhenisch's speaker embodies his dog, named after Churchill, with mythic attributes that seem to transcend history. The reader may see the years as bones and the generations of black dogs rooting for their own treasure.
Three poems by Richard Lemm and two by Helen Humphreys flesh out this issue with "Hannibal's favourite elephant" and "Auden's House." After forty years the Malahat Review continues to supply a body of excellent and pertinent writing that will hopefully continue for another forty.
—stephen e. leckie
Have a look at our last featured issue, issue #151
Have a look at our next featured issue, issue #160