The Focus of the Novel: Molly McFaul in Conversation with Ann Ireland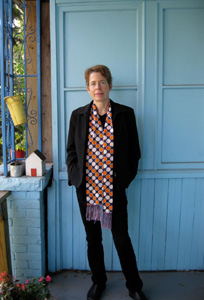 Malahat volunteer Molly McFaul talks with Ann Ireland, one of three judges for our upcoming 2014 Novella Prize.
The novella is a very specific form. How is it different from a short story, or a novel? What are the difficulties inherent to this specific form? Is there a uniqueness that affords aspects of this form to be unlike any other?
A novella has a unity of form, and doesn't go off on tangents and subplots. Usually. Any writer should feel free to upend this statement. It can feel like it's been written in one very long breath, one arc of consciousness. I love the form because it's longer than a story (unless you are Alice Munro and your stories are like novellas) and thus it has time to worm into the brain. Long enough for the reader to inhabit a world but not get tired of it. The pleasure is in the sharp focus. I think of Margarite Duras's "The Lover," or early Ian MacEwan novellas. Slim Ondaatje books such as Coming Through Slaughter and Billy the Kid are my favourite of his fictions.
Most novels sag in sections and feel flabby and repetitive. A novella is a cleanly sliced piece of bread, minus the crumbs.
Your first novel, "A Certain Mr. Takahashi", was made into a feature length film in 1991 directed by Claude Gagnon and entitled "The Pianist". What was that experience like? What was it like to see your literary work visually represented in another medium? How involved were you in its production?
The director came to Windsor, Ontario, where I was writer in residence, to interview me about the characters. Later, he invited me to spend several days on set in Montreal. I must say, that was an odd experience. I arrived from the train station, suitcase in hand, to a concert hall where a full scale symphony orchestra was tuning up, just as it appeared in my novel. Holy smokes, I thought – should have made it a quartet. Dollar signs filled the air. As I made my way backstage I was introduced to the main characters, two young women. They sprang from the makeup table and danced in front of me, saying: 'What do you think? Are we as you envisioned?'
I didn't say, 'Of course not,' because how could they be? Other than these two episodes, I had no involvement in the movie, except to speak at its premiere. Frankly, it's weird seeing one's inner life and vision transformed into another's vision. 
Jessica Michalaofsky of the Globe and Mail reviewed your fourth novel, The Blue Guitar, with an ear to your "ability to render acoustic sound in language that is beautiful and startling." Do you have a background in music or formal musical training? What are your thoughts on the interplay of music and the written word?
As a kid I was always studying piano/classical guitar/oboe/cello – with varying degrees of seriousness. I came back to classical guitar as an adult, hence the impetus for my 2013 novel, The Blue Guitar. Most of the action takes place in the world of classical music competition. I never had the slightest urge to play guitar in public. My hands would shake. But I could write those scenes from the inside out. I know what it is like to listen intently, to feel the sound in the body and brain before it exists in the world. Isn't that rather like writing? I think so. And there is a similar discipline of working on a phrase countless times until it is perfected.
With Alice Munro receiving the achievement of Nobel Prize for Literature, it seems that Canadian female authors are receiving some well-deserved attention. How has the treatment of female authors changed (or not) in your opinion over the course of your career?
When I was a teenaged secret writer of poems and stories, CanLit was exploding and women were top of the game; Margaret Atwood, Margaret Laurence, Marion Engel and Alice Munro were pretty big cheeses and I was well aware of that. I recall that Atwood would get batted around in the media, which was dominated by men – the guy writers had problems with her success. I first clapped eyes on Atwood when she was reading from Power Politics in the medical arts building at University of Toronto. I, a non-student, elbowed my way in and joined an overflow crowd. She strode on stage in a mini-skirt and high leather boots and read those tough poems. That made an impression.
What is your favourite form to read? Is it different from your favourite form to write?
I tend to read poetry first thing in the morning to wake up my brain and prepare it for a couple of hours of writing. I just read Phil Hall's latest volume, and I'm tapping on the door of Anne Carson's Red Doc>, which is no walk in the park. It stiffens my resolve. In the evenings I tend to read short stories (just finished Cynthia Flood's "Red Girl Rat Boy", Douglas Glover's "Savage Love," and Lynn Coady's "Hellgoing"). All are terrific. When I am reading short fiction I wonder why the hell I bother with reading long. Do I really want to commit to 300 plus pages? So often it's a disappointment. Right now I'm reading the novel Americanah by Chimamanda Ngozi Adichie, which has had over-the-top reviews. So many of the insights and observations seem obvious and common to me. Nothing startles. I'll read anything by Jeanette Winterson, even when she's not at her best.
As to what is my favorite form to write?  Novels, because they are so contrary to my nature, which is 'fast moving.' Novels require infinite patience, and it is a form of supreme torture for someone like me to dig my heels in for years on end and write endless drafts. In other aspects of life, I'm a sprinter. I must crave the challenge. For a more obvious pleasure, I write creative non-fiction for various journals and magazines, and I get a big kick out of writing profiles of artists for Canadian Art Magazine.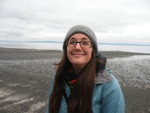 Molly McFaul
* * * * * * * *
Read full guidelines for our 2014 Novella Prize.