A Conversation With a Friend:
Wally du Temple
Wally du Temple
joined the
Friends of The Malahat
in the fall of 2012.
Malahat
volunteer
Julie Bartusek
interviewed him.
How long have you been a Friend of The Malahat? Can you tell me one of your favourite experiences with them so far?
 
I have been a reader of The Malahat Review for many decades, but became a friend very recently. A teacher of English literature in secondary schools I used the high quality and variety of the content as enrichment for creative writing. I guess I joined as a Friend when I read that some grants were being cut or reduced.

What do you enjoy most about The Malahat: a discounted pass to the annual spring symposium, WordsThaw, a free copy of Mocambo Nights edited by Patrick Lane, the 10% discount at Renaissance Books, the social opportunities to meet and interact with local authors, both established and new, or any of the others that are included with membership? Can you tell me a little of how you enjoy them?
I enjoyed going to WordsThaw in March and the opportunities to meet and interact with local authors both established and new. Since I am a new, self-published author myself via Friesen Press, those opportunities hold real value. The act of writing requires creative talent that wanders freely but within an intent that gives direction. Perhaps someone said that to me during an event.

How did you first hear of The Malahat Review and how did you come to be a Friend?

I read my most memorable issue in the fall of 1992,  that was number 100. The first two selections, "The Time I Heard..." by Yann Martel and "Four Poems" by P. K. Page so captivated me both as individual works but also how they seemed to bounce musically one against one another that I don't know why it took me so long to become a Friend.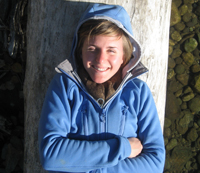 Julie Bartusek
* * * * * * * *
More info about the Friends of The Malahat