WordsThaw 2013
1st-Annual Spring Symposium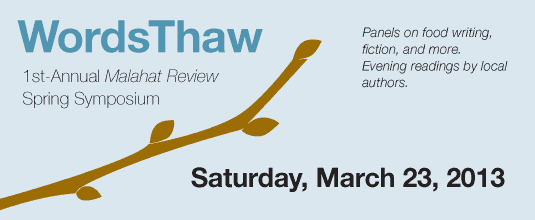 An Intellectual Icebreaker at the Cusp of Spring
On Saturday, March 23 The Malahat Review held its 1st-annual Spring writing symposium. We held three panels during the day: "Zoom In, Zoom Out: Focus on Fiction," "A Sustainable Feast: The New Food Writing," and "In Our Names: Writers on Poverty." In the evening, we held "Words on Ice," readings from eight writers from B. C. and Alberta. The event was a great success and we're already looking forward to next year.
Please contact us if you have any ideas about panel topics, readers you'd like to hear, etc, for WordsThaw 2014, which we will hold on February 20-22, 2014.
Check out last year's WordsThaw page.
View all WordsThaw photos on facebook.
Event Sponsors: