Charles Lillard Founders' Award for Creative Nonfiction
2018 Winner: Gena Ellett
The University of Victoria, on behalf of The Malahat Review, is pleased to announce that the recipient of this year's Charles Lillard Founders' Award for Creative Nonfiction is Gena Ellett for her essay, "Heaven," which appeared in Issue 199, Summer 2017. Her essay was chosen by award judge, Andreas Schroeder.
Established in 2016, the Charles Lillard Founders' Award recognizes the best work of creative nonfiction (for example, a memoir, a lyric essay, travel writing, or personal essay, among others) to have appeared in The Malahat Review in the previous calendar year.
Of Ellett's essay, Andreas Schroeder says: "This wonderfully evocative portrait—almost a eulogy—is written from the sorrowful perspective of a daughter 'waking up in the night with the sudden realization how much it takes for a child to stop loving a parent—and wondering if I've passed that point.' Her father, thirty-five years a West Coast fisherman until his addictions destroyed his own life and deeply convulsed his family's, is still alive at this point, but it almost doesn't matter anymore. Then again…to paraphrase the Reverend John Ames in Marilynne Robinson's GILEAD: 'A child can know her father deeply, and there might still be nothing between them but loyalty, love and mutual incomprehension.' The strength of a eulogy—I'm going to keep calling it that—is its devastating finality, its ultimate generosity, and its profound depth of feeling. Its most characteristic weakness is its author's reluctance to be entirely honest. Ellett's portrait of her father largely avoids the latter, maintains all the former, and—most important in my view—adds a third dimension, an equally honest assessment of her and her father's similarities; a willingness not only to deliver judgement, but also to accept it. The effect opens her experience to the rest of us: to consider whether our own behaviours would ever be able to stand the judgement of our children, actual or figurative. Writing that stops us in our tracks in this way, not to proselytize but to alert, is the main reason I spend so much of every day reading books. And why I consider Gena Ellett's 'Heaven' to be such a worthy recipient of the Charles Lillard Founders' Award for Creative Nonfiction."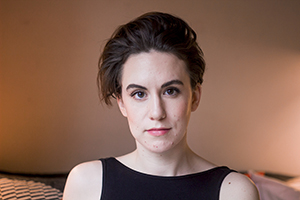 Gena Ellett's writing has appeared in publications across North America, including The Malahat Review, Slice, Gulf Coast, Canthius, Event, and SubTerrain. Her three-part series GHOST GIRLS is forthcoming with The Smart Set this spring. She won the 2015 Event Nonfiction Prize, and was nominated for a 2016 National Magazine Award for Personal Journalism. She lives and writes in Vancouver.
Andreas Schroeder has made his living as a freelance writer in B.C. for the past 50 years. His 25 books include works of fiction, creative nonfiction, poetry, history, translation and literary criticism. For a dozen years (1990-2002) he was a regular contributor to CBC radio's BASIC BLACK SHOW, and has won or been shortlisted for over a dozen literary awards, including the Governor-General's Award for Nonfiction (1977),  the Seal Books First Novelist Award (1984) and a CAJ Best Investigative Journalism Award (1991). In 2013 the Writers' Union of Canada honored him with the GRAEME GIBSON AWARD (given only 3 times in its history) for the 33 years he spent leading the Union's successful crusade for the Public Lending Right. He held the Rogers Communications Chair in Creative Nonfiction in UBC's Creative Writing Program from 1993 until his retirement in 2017.
For more information about the Charles Lillard Founders' Award for Creative Nonfiction and how you may support it through a donation, please email The Malahat Review.
Read an interview with Gena Ellett on her essay, "Heaven."
Previous Charles Lillard Founders' Award Winners