Kyra Kristmanson,
Editorial Assistant / Work Study Student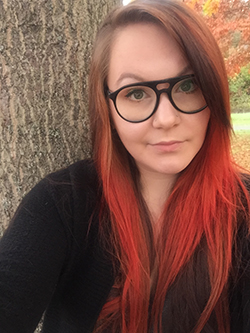 Kyra Kristmanson grew up in the cold northern city of Prince George, BC, on traditional unceded Lheidli T'enneh territory. In her early post-secondary years, she spent time as a musician, professional hairstylist, actor, and body piercer, before moving to the beautiful city of Victoria where she is now a visitor on unceded Coast Salish territory. There, she became a university graduate, obtaining a BA in English with a minor in Creative Writing from the University of Victoria.
A few of her opinion pieces can be found in The Martlet—warning, they are and will always be political—and in the past, she has been very vocal about the body modification industry through her writing with West Coast Ink Magazine. Her debut novel is a work in-progress.
Kyra loves to read (obviously), but her passion for narrative runs across all forms of media. Through the years, she has become a self-proclaimed horror movie savant, diehard fan of fantasy novels, and occasional player of Dungeons & Dragons.