Poetry Review by Barbara Colebrook Peace

Joanne Epp, Eigenheim (Winnipeg: Turnstone, 2015). Paperbound, 109 pp., $17.)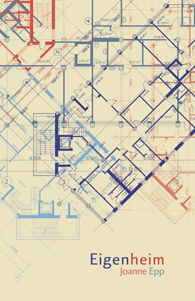 Joanne Epp's first full collection of poems, Eigenheim, is delightful and profound. Alive with many voices, these poems explore that which is "own," "separate," "characteristic," and "peculiar" (the meaning of eigen in the book's title) as an individual seeks a heim, a home, or place in the world. The idea of home is variously explored, from a child's very close-up view to an adult's being far from home. We hear, for example, how a small child discovers her early home, quite freshly through prepositions of movement: "The dining table was roof and walls, / was in, under, through." The poem ends "And the kitchen cupboard with / the turning shelf that moved / each time I pushed it, / that one was around / and around again" ("The House on 10th Street").This is a key poem, for the book's three major themes—home, language, and discovery—move in, under, and through each other in exactly this physically grounded way throughout. There's a sense, too, that the poet is turning the world around on its hinges. Epp offers poems with satisfying rhythms to read aloud, crafted with delicate use of assonance, alliteration, and occasional slant rhyme. The spare and unpretentious language fits perfectly with the poet's alertness to the limits of our knowledge of ourselves, each other, and the world. Many of the poems seem to be written from "the edge of the known world" ("Instruction"). Epp's poetry has a quality of "negative capability," defined by Keats as "capable of being in uncertainties, mysteries, doubts." I was very moved by this poem: "In the dreams she wrote words with missing letters, / said full and heard empty. / In the dreams she could never say child" ("The lost one"). In this book where edges are touched, moved to and from, the book's music includes the edge of dissonance, a dissonance of image as well as sound, that conveys a very human uncertainty and longing. Epp's poem "Evensong" reminds me of R. S. Thomas's poetry in its spare and lovely evocation of faith and uncertainty held together. Someone has fallen ill in church, and the "jewel colours in east windows" are "stained / by the flare of revolving lights."
Attendants murmur: Can you hear me?
Can you speak? Along the nave,
the bent heads in rows, the call
and response: Hear us. Deliver us.
Those questions, Can you hear me? and Can you speak? resonate throughout the book. Part of the book's power, in fact, comes from the poet's speaking out loud the words she was too shy to speak as a child ("Shy") or that hover at "The back of your throat / where all the words are waiting / till it's safe to come out" ("Sitting together, not quite touching"). Of the seventy-two poems in the book, half contain direct speech, and the other half refer frequently to speech, words, and communication. The poet has a fine ear for colloquialisms: "Those boys are good eaters." There's a great zest for living, in the voices that sound here, even of ancestors no longer on earth, each one present in their own characteristic voice and full of questions, ranging from an aunt's "Is your apartment warm?" to a child's "Who are they?"
Epp explores how we mediate the world, and where language fails us, through imagery of the plain and particular. In "Blue Napkins," for example, "I look down at the cobalt-blue napkins / that remind me of you, as everything does." The "cobalt-blue" is characteristic of her attentiveness to sensual detail. The poem ends with poignancy: "I'm all right, I say. I fold the napkin, / slip it in my pocket, / out of sight." A napkin is first grief, then wordlessness. Her poems are full of such unexpected turnings; what was hidden is briefly revealed and metamorphosed. Another way Epp turns the world of our experience "around / and around again" is through a skillful use of repetition, sometimes of a single word. For example, she revolves the word "look," four times in different places on the line, and ends with it in a different meaning. More often, she repeats a whole phrase with variation, as in "not sure... Not sure.... sure only." Her musical ear is evidently attuned through playing piano and organ. Some of the poems are about her music practice, and I very much enjoyed the quirky and humorous details, as when she tries to make the sound "fatter," and imagines her piano teacher "playing Brahms underwater." I also savoured the sounds of mechanical objects: the "Steam-hiss of cylinders," and of nature, especially the rain with its "consonants chattering on the shingles." I came away from this book with my own listening ear much enriched and more inclined to listen to all the voices of the world around us. Eigenheim is a beautiful and substantial first book from a poet who courageously embraces the contemporary world with all its uncertainty, gives it her full attentiveness, and communicates it in images and sounds of enduring power.