Biennial Poetry Prize Looms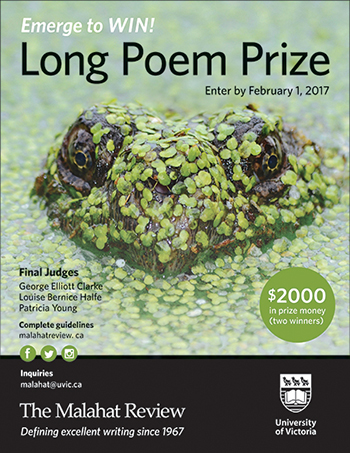 The countdown is on to submit your Long Poem entry!
We're looking for a single poem or cycle of poems between 10 and 20 pages long (360 to 720 lines in total). No restrictions as to subject matter or aesthetic approach apply.
Two prizes of $1,000 will be awarded, and both winners will be interviewed for the Malahat's website and newsletter.
***New this year: book prizes! All you have to do is enter the contest, and you'll be entered in a draw to win books of poetry from Canadian publishers.
Full contest and prize information on the Malahat website.
Interview with WordsThaw Prize Judge, Janet Rogers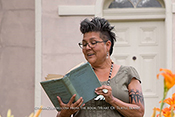 Victoria's Poet Laureate Yvonne Blomer talks with Janet Rogers, former Poet Laureate and the inaugural WordsThaw Prize judge for 2017. The prize is open to all emerging writers who live within the Capital Regional District (Victoria, B.C. and surrounding areas).

YB: What kinds of work are you hoping to receive as the judge for this contest? What work are you drawn to? 
JR: Authentic, original work. Work that has a somewhat developed voice but doesn't have to be a polished or professional voice. Written work that says what the author wants to say, not what the author thinks the reader wants to see. I am not drawn to nor do I support "tourist" fiction defined as an author who has no history, connection or direct experience with the subject they're writing on, but chooses to write about it because the subject is topical or provocative. I like experimental writing. I like passionate writing.
Read the rest of Janet's interview on the Malahat website.
Indigenous Perspectives Interview: Jordan Abel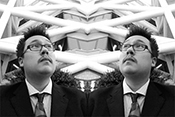 Carleigh Baker, a writer who lives on the traditional, ancestral, unceded territory of the Musqueam, Squamish and Tsleil-Waututh peoples, interviews Nisga'a writer Jordan Abel about the intersection of poetry and academia in his poem, "Terra Nullius (3-5)." Abel's poem appears in the Malahat's Indigenous Perspectives Issue, dedicated entirely to contemporary Indigenous writing in Canada. Read his poem on the Malahat website.

CB: Your poem, "Terra Nullius (3-5)," can be loosely defined as "land belonging to no one," or "land that is devoid of civilized society," the latter definition being of particular relevance to Canadian settler colonialism. How are you working with this idea here?
JA: The idea itself is something that I've been thinking about for a while now. My first substantial engagement with terra nullius was in my book-length work, Un/inhabited, which took a bit of a different approach than the piece that appears in The Malahat Review. My most recent interest in this concept actually comes from James Fenimore Cooper's book, The Last of the Mohicans. At some point, I went on to Good Reads and started reading reviews of TLOTM. I was really interested in who was reading this book right now, and I stumbled on a group of Good Reads reviews from American high school students who all seemed to hate the book. But they seemed to hate it because it was boring, that Cooper spent an endless amount of time describing river valleys, rocks, and trees. So I began to wonder what was behind those description of land, landscape, and scenery. And also what happens when you just look at those blank descriptions.