Jack Hodgins Founders' Award
for Fiction
2016 Winner: J. R. McConvey
The University of Victoria, on behalf of The Malahat Review, is pleased to announce that this year's recipient of the Jack Hodgins Founders' Award for Fiction is J. R. McConvey for his short story, "Home Range," which appeared in the Malahat's Autumn 2015 issue (192). McConvey's story was chosen for this award by Marina Endicott.
Established in honour of the celebrated Victoria novelist's contribution to Canadian letters and to the University of Victoria, the Jack Hodgins Founders' Award for Fiction recognizes the excellence of The Malahat Review's contributors by awarding a prize of $1000 to the author of the best short story or novella to have appeared in the magazine during the previous calendar year. The winner, selected by an outside judge, is announced prior to the publication of The Malahat Review's Spring issue.
Of McConvey's story, Endicott says: "'Home Range' is tense and believable. A bereaved single father, Kyle is caught between conscience and cowardice when he stumbles on human trafficking. Uncomfortable, uncompromising writing turns a too-bright porch-light on Kyle's failures and his uneasy, exhausted grit when he finds himself in a hard corner."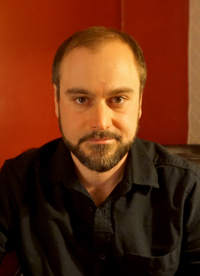 J. R. McConvey is a writer based in Toronto. His e-book, The Last Ham, was published by House of Anansi Digital. He won second prize in the 2015 Bristol Short Story contest, and has published fiction in The Malahat Review, Joyland, Event, The Dalhousie Review, and The Puritan. His poetry has appeared in carte blanche, filling Station, and the Carbon Culture Review, and he participated in the 2013 Pulitzer Remix Project, creating found poems from Herman Wouk's novel, The Caine Mutiny. He regularly reviews books for the Globe and Mail, creates digital things for SESQUI, and exists on the web at jrmcconvey.com and on Twitter @jrmcconvey.
Marina Endicott came to fiction late, after a career in theatre. Her latest novel, Close to Hugh, was long-listed for the Giller Prize and named one of CBC's Best Books of 2015. Her second, The Little Shadows, was long-listed for the Giller and short-listed for the Governor General's award. Her first novel, Good to a Fault, a finalist for the 2008 Scotiabank Giller Prize, was a CBC Canada Reads book and won the 2009 Commonwealth Writers' Prize for Best Book, Canada/Caribbean. She teaches creative writing at the Banff Centre for the Arts, U of T's Summer School of Creative Writing, and the University of Alberta.
For more information about the Jack Hodgins Founders' Award for Fiction and how you may support it through a donation, please email The Malahat Review.
Read an interview with J. R. McConvey about his winning story.
Previous Jack Hodgins Founders' Award Winners
2015
2013
2012
2011
2010
2009
2008
2007