The 50 Issues Project
Issue #73
Issue Date: January, 1986
Editor: Constance Rooke
Pages: 132
Number of contributors: 23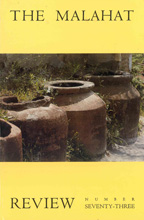 While the curious cover photo by Gary Kines ("Granary Urns, Pompeii") may lack the zesty oomph of a walrus-straddling busty nude, it does offer all sorts of metaphorical avenues to explore. (Volcanic content? Seeds bursting with life? Creativity well worth preserving through the ages?) Contributions of note in this issue include John Newlove's poem "White Philharmonic Novels" (which earned honourable mention at the National Magazine Awards that year), plus Michael Kenyon's short story "Buzzing in A," two poems by Lorna Crozier in the days before she joined UVic's Department of Writing, four poems by soon-to-be speculative fiction writer Heather Spears, and four poems by famed American writer and frequent Malahat contributor Joyce Carol Oates.

I also quite enjoyed the literary flashback that was editor Rooke's review of Margaret Atwood's The Handmaid's Tale, in which she described the dystopic story as "a remarkably pleasurable novel. The situation unfolds so skillfully, and the ideas develop from our own reality so naturally, that it's a pleasure to watch." (Rooke does temper her enjoyment, however, with the proviso that the author "is anything but deadly serious. The book is a warning. And Atwood knows whereof she speaks.")
Great fun too is Stephen Scobie's review of Leonard Cohen's Various Positions album—no surprise, since Cohen is one of Scobie's specialties. "Musically, it is perhaps a little monotonous . . . the most enjoyable song, however—and the only one on which Cohen's humour is allowed free reign . . . is 'Hallelujah.' Surely only Leonard Cohen (or perhaps Bob Dylan) could really get away with rhyming 'Hallelujah' with 'What's it to you?'"
—John Threlfall
*Contact us to purchase a copy of issue #73
Have a look at our last featured issue, issue #72
Have a look at our next featured issue, issue #76