Our Back Pages
Issue 68
Issue Date: June 1984
Editor: Constance Rooke
Pages: 156
Number of contributors: 21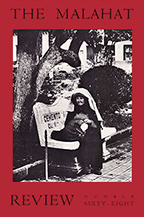 In a somewhat disheartening beginning to the issue, editor Constance Rooke's comment informs readers that the Malahat has fallen into hard times. Due to a "substantial reduction in the University of Victoria's contribution to the budget", the Malahat had to rely on financial assistance from the provincial government in order to publish its 68th issue. Despite this challenge, the hard-working editorial team managed to produce an excellent volume. The cover photo of a Mexican woman is an indication of the theme behind the issue's two main components: David Lampson's "photo essay" and Mexican-inspired stories by Patrick Roscoe's (1961- ).
It would be hard to miss David Lampson's spread—his uncontrived black and white photographs command attention. The portraits showcase Mexican adults and children engaged in the routines that make up their daily lives. They are complemented by intense and emotive prose poems, which appear separately from the photographs, creating a unity of effect and leaving it up to the reader to decide where they match up. Lampson's work exudes drama, which makes it unsurprising that he began his career as an actor. He is also a documentary film-maker.
Interestingly, due to "what the editors believe is the start of an important career," the issue features three stories by Patrick Roscoe, although normally so many stories by a single author would not appear in one volume. One of the stories, "Never Tears for California," was also published in the New Press Anthology: Best Canadian Short Fiction.  At the time, Roscoe had recently graduated from the University of Victoria and had already lived in several European countries, as well as California and Mexico. His familiarity with Mexico no doubt contributed to the credibility of his stories, in which he seamlessly adopts the voices of Mexican characters with a funny, touching, and sometimes heart-wrenching realism.
Other short prose contributors include the much acclaimed Joyce Carol Oates (1938- ). Oates has won an astounding twenty-one awards, including the Stone Award for Lifetime Literary Achievement, and has been nominated for many more. In this issue, readers can enjoy her piece "Manslaughter," which echoes the characteristic sombreness in some of her other works.  In addition, Jean McKay's (1943- ) "Mr. Appledorn" is a wonderful glimpse of a troubled young swimming instructor who finds solace in the company of an 82-year-old deaf man.
Poets Jerry Rush and Karen Romell (1960- ) both create beautiful imagery in their work. Rush is serious and thoughtful; Romell is familiar and descriptive. Her work has also appeared in the Women and Words anthology, and her two poems "Sleep" and "Pigeons" are best described in her own words: "The lively rehearsal of the normal." Also, be sure not to miss Noah Zacharin's (1957- ) playful and imaginative "Ships in the Forest," inspired by a Scottish folk song. In addition to being an award-winning poet and translator, Zacharin is a talented musician and has also worked as a dentist. Finally, Dutch poet F. Ten Harmsen V. D. Beek (1927-2009) "created a literary sensation" with the publication of her first volume in 1965. In this issue you can read Pleuke Boyce's translations of two of her enigmatic poems, written almost entirely in couplets. One of them includes the unique dedication "To my despondent cat, to console her on the death of her offspring."
—Chloe Hogan-Weihmann