The 50 Issues Project
Issue #63
Issue Date: October, 1982
Editor: Robin Skelton
Pages: 260
Number of contributors: 37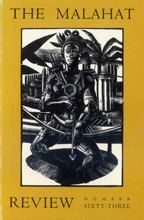 In 1982, the Malahat was showing signs of transition. Constance Rooke had assumed the post of fiction editor, and a world-class advisory board had been assembled, including Margaret Atwood, Anthony Burgess, Northrop Frye, Ted Hughes, and William Stafford as well as the sculptor Henry Moore. Even with such assistance, the masthead advises us that "the contents of this issue have been largely chosen by Robin Skelton" who would remain editor of the Malahat for only one more issue.
The first quarter of issue 63 is taken up by a sheaf of five stories penned by Seán Virgo, in the idiom of Irish folktales. Three are good reminders that a powerful story can be told in less than five pages, and though their Irishness is everywhere, it's a worried sort of bond to home turf. Whether Virgo's characters are in a war of wits with spirit creatures, or in semi-permanent war with the English, his Ireland is an unsettled place, breeding only expatriate ambitions.
The poetry is also of note. Marilyn Bowering and Robert Bringhurst worry distances between the natural world and the human, though they approach the question in different mythic registers. Guy Vanderhaeghe's poem undoes one of our strongest supernatural tropes. And current Malahat editor, John Barton, appears in the journal for the first time as well, with a collection of poems which will eventually become West of Darkness, his book of poems in the voice of Emily Carr.  
--Marc Christensen
*Contact us to purchase a copy of issue #63
Have a look at our last featured issue, issue #60
Have a look at our next featured issue, issue #67