Our Back Pages
Issue 48
Issue Date: Fall 1978
Editor: Robin Skelton
Pages: 140
Number of Contributors: 22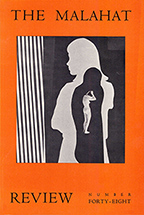 The cover of issue forty-eight of the The Malahat Review offers a many-layered clue as to its contents. "Collage" was created by Robin Skelton who, as well as being Malahat editor, founder of the Writing Department at the University of Victoria, and a prolific author, was also a member of The Limners, a group of local visual artists (including Myfanwy Pavelic, Herbert Siebner, Elza Mayhew, and Colin Graham, to name a few). The group was established in 1971 and only disbanded in 2008.  When The Malahat Review celebrated its fortieth year in 2007, numerous events included an exhibit titled "Robin Skelton:  A Living Collage." It was a most fitting title given Skelton's varied artistic talents. 
In this issue of The Malahat, the editors (Skelton, Charles Lillard, and William David Thomas) juxtapose a highly diverse collection of poems, short stories, and essays to create a collage-like effect. In James J. McAuley's poem, "Studies for a Self-Portrait at Forty," the narrator's observation draws parallels to the nature of collage itself: "You'd hardly notice at first how everything / Has been arranged." Also included here are works by poets from Canada (including Tom Wayman and Richard Outram), Great Britain, France, the United States, Russia, and Greece. Of particular note is the gathering of eight short poems by Kathleen Raine (1908-2003).  This English poet, critic, and scholar was the recipient of the Queen's Gold Medal for Poetry (1992), the Order of the British Empire (CBE, 2000), and L'Ordre des Arts et des Lettres (Commandeur, 2000). Her poems here, philosophical and unexpectedly haiku-like in their natural details, reveal Raine's appreciation for and understanding of seemingly simple aspects of her world. Meanwhile, French Dada and Surrealist poet Benjamin Péret (1899-1959) offers a dramatic contrast with "The Abnormal Labour" (translated by Jane Barnard and A. F. Moritz).
David R. Clark's "The Manuscripts of W. B. Yeats' 'Crazy Jane on the Day of Judgement' " is a fascinating study both on the nature of love and the creative process. Readers will see the poem's evolution on the page and appreciate how Yeats "[is] making the tradition his own, turning verse into resonant poetry, irrefutable song." Twelve black and white plates complement the text.
Finally, readers will delight in three short stories by Argentinian writer, journalist, and musician Daniel Moyano (1930-1992).  In "The Power, The Glory, Etc.," "The Picaros," and "The Crocodile Case," H. E. Francis has artfully translated the words of a man heavily influenced by a life of personal and political turmoil. Moyano masterfully exposes his characters and their worlds, layer by layer. Indeed, his skill in presenting harsh realities with warmth, humour, and a sense of magic will leave readers wanting more.
Taken together, this impressive literary collage presents readers with a compelling and dramatic assembling of ideas and images.
—Robin Reniero