Our Back Pages
Issue #179
Issue Date: Summer 2012
Editor: John Barton
Pages: 112
Number of contributors: 23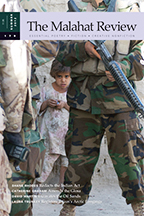 Paul Watson's cover photograph of a young girl peering through a line of uniformed soldiers captures the tranquil intensity of this issue. Beyond this snapshot lies diverse, intimate, and vulnerable impressions of community and identity—and the places where the two forces naturally intersect.
This issue spotlights 2012 Novella Prize winner "Cinema Rex" by Naben Ruthnum (sometimes published under the pseudonym Nathan Ripley), which also went on to win the Journey Prize, presented by McClelland & Stewart and the Writers' Trust of Canada. Set on the island of Mauritius shortly after the 1955 release of The Night of the Hunter—a film whose significance in the life of Vik, the protagonist, becomes clear—"Cinema Rex" is a coming-of-age tale that confronts themes of belonging and adjustment with quiet elegance. By unveiling the link between the small colonial community and a newly renovated movie theatre, Ruthnum tells a story of childhood self-consciousness, family dynamics, and comfort in unexpected places. Augmenting depictions of the everyday life of Vik and those close to him are footnotes that cast an eye toward the distant future of these characters—a future unexpectedly correlated to the realities of the present.
Other notable fiction pieces include "Melnyk," by 1995 Governor General's Award-winner and renowned Canadian novelist Greg Hollingshead, and "Winchester .30-30" by Laura Trunkey, whose stories have appeared in journals and magazines across Canada. The former takes the form of a lighthearted and compassionately honest character sketch, unravelling the life of a man whose chance encounters with disaster and tenacious faith in the universe paint a picture as ironic as it is poignantly believable. "Winchester .30-30," on the other hand, is a different sort of character sketch. By personifying a gun as it recollects its various owners, this narrative explores the reclamation of power, and the different forms power itself can take.
Issue 179 also features a singular work of creative nonfiction by Russian-born Israeli-Australian author Lee Kofman. "The Rain" tells a tale of anti-Semitic tension and familial community in Odessa, as experienced by a child who finds empowerment despite alienation.
Closely exploring identity and community in this issue is poetry by a variety of Canadian writers including Ben Ladouceur, poet and visual artist Dorothy Field, and 2014 CBC Poetry Prize-winner David Martin. Five poems from Shane Rhodes' "Found Land" confront the silencing of Indigenous voices—slicing into colonial "logic" by experimenting with the contents of the Canadian Post-Confederation Land Treaties themselves.
The reviews section includes commentary by 2016 Governor General's Award-winner Joe Denham, and a critique of Alice Major's genre bending work, Intersecting Sets: A Poet Looks at Science.
—Safiya Hopfe