Our Back Pages
Issue #161
Issue Date: Winter 2007
Editor: John Barton
Pages: 112
Number of contributors: 25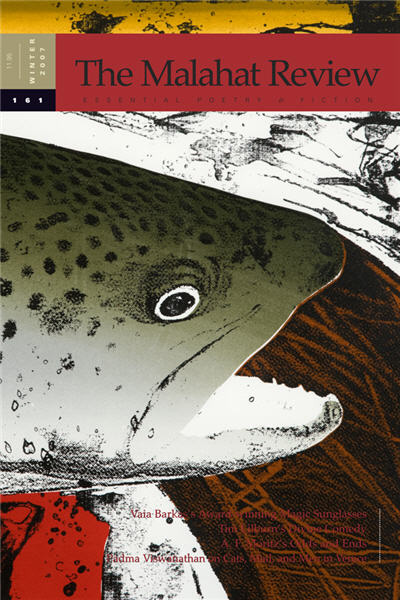 The cover of issue #161 offers a clue as to some of the diverse and provocative content within. Pat George's serigraph titled Homage to Andy reflects the artist's passion for the natural world and its conservation. The outdoors, fly fishing, and the exploration of life experience weave their way into several of the pieces in this rich, reflective, and timely issue.
In "Blindspot,"Vaia Barkas, winner of the 2007 Constance Rooke Creative Nonfiction Prize, draws from her own experience as well as her observational powers as a palaeontologist and presents readers with a rich landscape alive with sensual detail. Fly fishing takes on deeply metaphorical significance for the protagonist, becoming a meditation-of-sorts on the power of perspective and experience. The protagonist reminds readers that "once you have seen those fish, you have glimpsed the potential of that river and every river, and there is no going back; there is no return to ignorance." The sentiment re-emerges in "Apeirophobia (fear of infinity)" by Matthew Tierney (2013 winner Trillium Book Award for Poetry) when the speaker acknowledges that "[t]here's no way of unknowing / what we know." Not always the most comforting thought, perhaps, but an important one nonetheless.
Meanwhile, acclaimed Canadian poet Anne Compton (recipient of the 2005 Governor General's Award for Poetry; 2003 and 2006 Atlantic Poetry Prize; and 2012 Queen Elizabeth Diamond Jubilee Medal) offers a delightful sampling of poems, three of which won Silver in the poetry category of the 2007 National Magazine Awards. Interestingly, "The age we discover poetry" and "Houseguest" seem to echo some of the sentiments expressed in Barkas's piece. In the first, the speaker reminds us that "[t]he world's already written. We come as readers, hands ready as harps," while in "Houseguest" the speaker suggests a new sense of awareness by acknowledging, "I know I'm on the edge here—edge of your life, threshold of / understanding in the small hours."
A recurring theme of innocence versus experience and the insight gleaned from the process of becoming more aware emerges in two exquisite poems by the late P. K. Page (1916-2010): "The Age of Gold" and "Hughes." Widely recognized for her literary contributions, Page received many awards, including the 1954 Governor General's Award for Poetry, the Order of Canada (1977, 1998), Order of British Columbia (2003), and Fellow of the Royal Society of Canada (2006). The speaker in "Hughes" reminds readers that "beauty / such as we see— / is the lowest note / in an infinite scale," a comforting thought I think. How lucky we are, as readers, to have these literary gems to remind us that gaining greater awareness of the world and of our place in it need not always be a painful process.
Readers will also enjoy works by Tim Lilburn (Governor General's Award for Poetry, 2003), Sadiqa de Meijer (Governor General's Award for Poetry nominee, 2014 and Pat Lowther Award, 2014), and A.F. Moritz (Griffin Poetry Prize, 2009; and Guggenheim Fellowship for Creative Arts, US and Canada, 1990).
Finally, this most compelling issue is rounded out by a thoughtful collection of book reviews engaged with such ideas as the diversity of contemporary Canadian poetry, poetic forms, and the need for identity in life and literature. Writers reviewed include Dennis Lee, Catherine Owen, P.K. Page, and Shane Rhodes.

—Robin Reniero