Experimentation or Whimsy or Survival: Lauren Korn in Conversation with
A. Light Zachary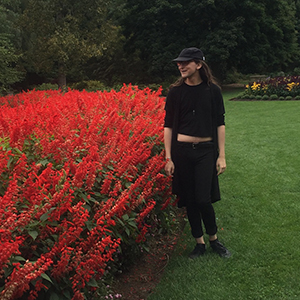 Malahat Review volunteer Lauren Korn talks with Open Season Awards poetry judge A. Light Zachary about their editorial work, writing a poem vs. an essay, and the value of simple truths expressed in new ways.
A. Light Zachary is a writer and editor. Their novella The End, by Anna was published by Metatron; they are now at work on their first book of poems, to be titled I'm scared, too.
Zachary is poetry editor at The Puritan, an editor with Metatron, and a past winner of the E. J. Pratt Medal in Poetry. Their poems and criticism appear in The Rumpus, The Malahat Review, Arc Poetry Magazine, and the Literary Review of Canada. Zachary was raised and continues to live between rural New Brunswick and central Toronto.
As a judge, what will you be looking for in the contest's prize-winning poetry? As a reader, what makes you cringe?

I feel exhausted by poems which presume to know a great deal about the world and speak in sweeping generalities upon The State Of Things, or which otherwise appear to be written from a perspective of intellectual superiority. I am most drawn to new ways in which simple truths can be expressed.

You work as a poetry editor at The Puritan, a literary journal, and as an editor with Metatron Press, an independent book publisher. Do you anticipate your experience as an Open Season judge being different from your editorships? (Either out of necessity—choosing only one winner, versus a number of poems for an issue or an entire manuscript—or because you'll be choosing work for a different journal, presumably for a different audience and aesthetic.)

I don't anticipate it being very different. I have no intention of compromising what I'm into for the sake of a new journal, audience, aesthetic (I feel like they wouldn't have chosen me as judge if they wanted that). I'll probably have a lot of fun because I love looking at an array of things and deciding on my favourite one. Usually, it's an immediate, instinctive decision which I then have to back-trace and rationalize.

In "Poem on not travelling" (from The Malahat Review's Queer Perspectives Issue #205) you write, "I would have to wear disguises there & I / am too proud for that." Can you speak a little bit about performance, identity, and disguise?

Contrary to the opinion of that poem's speaker, I think it's neither less nor more honourable to refuse to don disguises, and I think that one is not necessarily less genuine while in a mode of performance. In life as in writing, you're still the same person when you put a mask on, whether the objective of that act is experimentation or whimsy or survival.

What role does genre play in your writing process? Do you sit down to write a poem, an essay, a story? Or do you sit down with a subject, not knowing which genre will best suit it?

The former. A bad analogy: my poetry is the asshole roommate always having parties, and my prose is holed up in its room with earplugs trying to work all night. They are not friends, though they often borrow phrases from one another and never give them back.

You're currently working on a book of poetry titled I'm scared, too. What are the themes of this book?

It's a collection of poems upon queer and transgender resistance, love, adaptation, and survival. I record the unique romantic love that can only exist between two trans people, and I consider how to overwrite trauma and obsolete understandings of the self with love and light.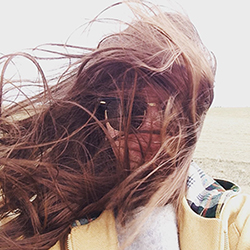 Lauren Korn
* * * * * * * *