Intergenerational Relationships: Andrea Perez in Conversation with Yilin Wang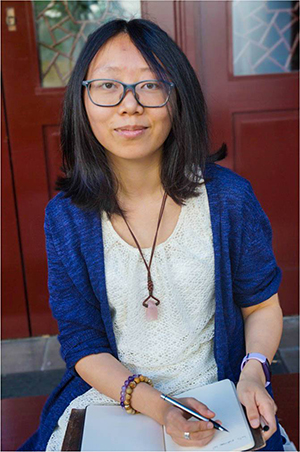 Yilin Wang, whose story "Fault Lines" appears in The Malahat Review's autumn 2019 Issue #208, discusses early drafts, family trauma, and intergenerational relationships among women in her Q&A with Malahat Review volunteer Andrea Perez. Read an excerpt of "Fault Lines."
Yilin Wang is a writer, editor, and Chinese-to-English translator who lives on the traditional, ancestral, and unceded territories of the Musqueam, Tsleil-Waututh, and Squamish peoples. Her fiction, poetry, and nonfiction have appeared or is forthcoming in Clarkesworld, Abyss & Apex, The Malahat Review, carte blanche, Grain, Contemporary Verse 2, Arc Poetry Magazine, The Tyee, The Toronto Star, Business Insider, and elsewhere. Yilin has been named a runner-up for Sequestrum Magazine's Editor's Reprint Award, a finalist for the University of East Anglia's David T.K. Wong Fellowship, and longlisted for TNQ's Peter Hinchcliffe Short Fiction Award. She is an assistant editor for Room Magazine and a Creative Writing MFA candidate at UBC, where she is completing her debut collection of short stories.

What's something that stayed constant from the first to the final draft of "Fault Lines," and what is something that you edited out of the story?
In my early drafts, the story had a very different beginning. I originally started my story by depicting the meeting between Dai Ying and Cheng, where Dai Ying offers to pay Cheng money to "rent" him as a "boyfriend" for her visit home during New Year's celebrations. But as my story evolved, I found that the original beginning was too distracting from my central storyline – the relationship between Dai Ying and her grandma. I removed that earlier section and included some hints of that backstory. My focus on Dai Ying and her grandma's intergenerational relationship remained the same throughout my editing process.
Your story focuses on intergenerational relationships – namely Dai Ying and her grandmother Poh-Poh. What were you trying to explore in focusing on such a relationship?
I'm very interested in exploring intergenerational relationships, particularly among women. Dai Ying and Poh-Poh have very different values and worldviews, which were shaped in part by their different upbringings and the times they grew up in. Through representing their relationship, I want to explore how their beliefs clash with one another, as well as explore the complex ways that a family can deal with and heal from trauma.
Why did you connect Baba's personal history to the tragic events in Beichuan?
Anyone who has spent some time in China or read the Chinese news would probably remember the tragic earthquake in Beichuan in 2008. When I learned of the earthquake from abroad, I was very concerned for so many people in my hometown, which was fairly close to the epicentre, and for everyone affected in my home province of Sichuan. The stories of the aftermath of the earthquake have long stayed with me. I want to use Baba's storyline to show how tragic natural disasters can affect one family on a very personal level.

In "Fault Lines," Dai Ying finds Baba's old copy of an anthology written by Bei Dao, who was known for weaving encrypted messages into his poems. Why is Bei Dao important to the story?
Bei Dao, one of my favourite poets writing in the Chinese language, is a representative of a style known as Misty Poetry (朦胧诗). He is also a part of the Lost Generation, the youths who grew up in the Cultural Revolution in China and became very disillusioned. His work is often described as a rebellion against form and structure, full of complex metaphors and symbolism that introduce paradoxes and ambiguity rather than directness. Baba's storyline is also very much about indirectness and the struggle to communicate, so he seemed like a character who would really appreciate Bei Dao's poetry as well.

Isabel Allende has the habit of beginning a new novel every year on the 8th of January. Ernest Hemingway often wrote while standing. Maya Angelou wrote in a hotel room that had been cleared of all artwork. Do you have any unique writing habits or preferences you would like to share?

I love to listen to music when I write. I often create musical playlists that reflect the general mood or feel of the project that I'm writing.
Do you have any upcoming writing projects you're working on?
Thanks for asking! I'm currently in the process of writing my first short story collection, which I hope will include "Fault Lines." Additionally, I have been working to compile some of my published poems and newly written work into a chapbook, so I'm on the lookout for a home for the manuscript.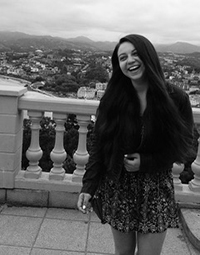 Andrea Perez
* * * * * * * *