What Speaks to You: L'Amour Lisik in Conversation with Barbara Tran
Barbara Tran, whose story "Le Loup et le Chien" appears in The Malahat Review's winter issue #221, talks with Managing Editor L'Amour Lisik.
Read an excerpt of the story here.
Barbara Tran's poetry collection is forthcoming from Palimpsest Press in 2024. She is a co-writer of two short xR films: Madame Pirate: Becoming a Legend, a 2022 selection of SXSW and the Cannes Film Festival's Marché du Film, and a sequel forthcoming in 2024. A video poem is touring with Diasporic Vietnamese Artists Network's traveling exhibition (2022-2025). A co-editor of Watermark, 25th Anniversary Edition, an anthology of Vietnamese North American poetry and prose, forthcoming this spring, Barbara is a contributor to collaborative hybrid projects by the diasporic Vietnamese womxn and nonbinary writers' collective She Who Has No Master(s), and a member of the arts and humanities collective AfroMundo. Barbara is indebted to Hedgebrook for radical hospitality at a crucial time, and to the Canada Council for the Arts and Ontario Arts Council for essential support. She shares her home with her partner and their two canine adoptees, Sprocket and River.

In your story, a Vietnamese father recounts a French fable by La Fontaine to his child, in which a starving wolf meets a well-fed dog. The fable, a poem originally published in 1668, is enriched through the narrator's Ba's retelling, which includes mentions of nước mắm as well as "morsels of bò lúc lắc seared in Beurre Bretel." What first led you to Le Loup et le Chien, and what inspired you to write about colonization through the lens of this fable?

During the American war in Việt Nam, a correspondent for Time by the name of Phạm Xuân Ẩn, served as a resource to many American journalists arriving in Sài Gòn. The star-studded list he befriended includes Frances Fitzgerald, Stanley Karnow, Robert Shaplen, and Neil Sheehan. It also includes Colonel Edward Lansdale, the Central Intelligence Agency operative widely believed to be the inspiration for the titular character of Graham Greene's novel "The Quiet American."

Phạm had a reputation for being voluble, affable, and overflowing with knowledge of his country's political history. It was difficult to get him to shut up. And somehow, he never gave himself away. Phạm, it turns out, was a double agent.

After the war, despite having received a dozen medals for service to his country, Phạm was sent for "re-education" and never allowed to leave Việt Nam again, nor to meet with visiting American friends. He was deemed to be enamoured with American culture and democratic ideals to a problematic degree.

Phạm kept fish and birds, animals trapped in extremely limited environments. An admirer of La Fontaine's fables, perhaps he imagined himself as the protagonist of one.
The story opens with a wedding photo of the narrator's parents, "taken in front of Notre-Dame in Sài Gòn" in the 50s or 60s based on the mention of the father's pompadour hairstyle. This grounds the reader in time, provides a visual of the narrator's Ba, and also sets the tone for the story's end, all within a few short sentences. What's your process for writing the opening lines of a project? Do you use the same process across genres (fiction, poetry, screenwriting)?
When I am working well, writing is a process by which I can tap into my subconscious and begin to untangle what is being processed there. I know a new poem or story is percolating when images whose significance is unknown to me begin to recur in my mind. Something in the subconscious is calling for resolution. Writing is necessary for me to see what I've been thinking.

As team endeavors, the film projects I've been involved in unfold through an entirely different process. The directors/co-writers set the scenes, so the visual possibilities are constrained. In some ways, it's not that different from life. Here you are in this situation and environment, what speaks to you, how will you respond?
There are several seemingly small details in this short story, such as the family dog's name, King, which implies a certain power or aloofness. That assumption is immediately flipped when we find out how obedient King is: "…Ba would call our German Shepherd, King, to his side (if King wasn't already there, which he usually was)." Do these details come to you as you write a story, or do they show up later, through the layers of editing that go into a piece of writing?
The name "King" was a gift from Phạm Xuân Ẩn, who actually did have a German Shepherd by that name. For the reasons you outlined earlier, this detail was too rich to pass up.

For me, small details are paramount and generally come before the arc of the story. Perhaps others who are neurodivergent can relate. I begin with unconnected details and write my way to their connection. It's like discovering an assortment of odd objects in your pocket. What can you do with these things? How can you connect them? Why has the subconscious connected them?
Can you tell us more about She Who Has No Master(s), and about your full-length poetry collection set to be published in 2024 from Palimpsest Press?
In 2020, I was living temporarily in Los Angeles and relishing in the marked increase in the amount of time I could spend outdoors, marveling at the lush flora and fauna. The birdsong, even at night, was raucous. During the day, I was treated to frequent sightings of red-tailed hawks, moss green hummingbirds and feral parrots, bright-as-the-SoCal-sky scrub jays, and iridescent ravens. Eucalyptus and citrus trees perfumed the streets, as did the abundant food trucks. My senses were ablaze.

Then came the pandemic. Then came the murder of George Floyd. Then came the astronomical rise in anti-Asian violence as a result of the baseless claims made by the then-president of the U.S., pinning blame for the spread of Covid on China. 2020 put an indelible stamp on my life in many ways. The least I could do was to bear witness.

She Who Has No Master(s) is a collective of diasporic Vietnamese womxn and nonbinary writers. Member participation in projects is fluid, depending on project parameters and individual availability. Simply knowing this ultra-talented group of artists is out there creating buoys me, whether I am currently participating in a project or not. Representation is everything.
What are you reading right now and/or whose writing do you return to for inspiration?
I am deeply privileged to be reading a draft of Nam Le's forthcoming book "36 Ways of Writing a Vietnamese Poem." This book-length poem is a kaleidoscopic examination of Vietnamese diasporic identity as it's been / is being defined for us and as we are defining it for ourselves. It is mind-bogglingly expansive.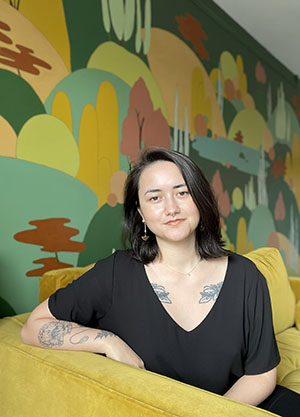 L'Amour Lisik
* * * * * * * *