The Forest and Back: Lee Henderson in Conversation with Dan Siney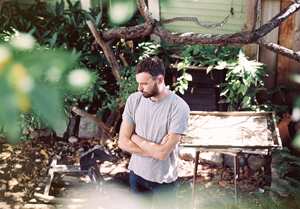 Photo credit: Jennilee Marigomen
Fiction board member Lee Henderson and Vancouver-area photographer Dan Siney chat about Dan's inspiration for "Stump 2," a stump-skull photo taken on Gambier Island and selected as the featured cover art for the Malahat's Autumn 2015 issue.
Tell me about your photograph of the road sign for Marine Drive that's on the cover of Issue #192, Autumn 2015 of The Malahat Review. How many times did you have to go around that highway in order to get that shot? Or is it a lucky drive-by 'decisive moment'?
Prepare to be bored. I notice that sign whenever I drive past it, which isn't very often. On that trip I remembered it was coming up, and I wasn't driving, so I took the picture.
You have made a series of photographs of the stumps from old logging,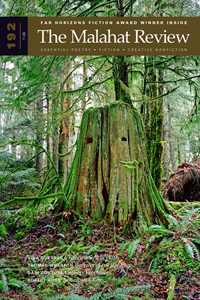 one of which we included on the most recent cover of The Malahat Review. Can you tell me about the process for making these pictures?
I was helping my friend Gretchen clear hiking paths for the Gambier Island Conservancy. She lived on Gambier at the time and she had an annoying goat. She made saddle bags for the goat to carry some of our gear. It was winter, and the three of us would hike two to three days into the forest and back again. Deep in the woods the old growth stumps, of which there was maybe one for every 20 trees, looked like the ghosts of the "original" forest to me. You could look up and around and imagine the space filled with these massive trees in place of the existing ones. Some stumps had empty eye sockets. (The holes were made by fallers who would stand on spring boards to hand saw the trees.) The first stump skull I saw was standing alone, covered in moss, with slanted, mean eyes, at the top of a hill we were climbing out of a clear cut. It made quite the impression. After we finished the job the Presentation House Gallery commissioned me to create new works for a group exhibition about North Vancouver. I went back to Gambier and Gretchen helped me carry camera gear back to some of the socket eyed stumps I'd liked, and we spent time bush whacking around looking for others. (You can see these stump skulls in any 2nd generation forest, so I told Helga at the PHG I found them on Fromme mountain. There, cleared my conscience.)
When you've decided on a subject, do you usually take a lot of photographs of that, or are you someone who shoots on the fly, and capture what you can when you can?
Mostly "what I can when I can." Sometimes I'll do a stump type project too, but usually if I have an idea for a series I become bored of it even as it's occurring to me. In the past few years I have also been abstracting images through a chemical process, and making abstract "collage" works. You can see these on my new website when it drops like a hot potato later this month! dansiney.com
Do you prefer to work with film cameras or digital?
I like film or the phone.
When you're looking at a photograph by another artist, what do you appreciate, and what frustrates you? As an artist yourself, what are you looking for in a photograph?
Being frustrated is a passion of mine but I can't think of many photographs that make me frustrated. I appreciate a photographer who loves looking and who understands the relationship between looking and representation, someone who works with the blood of looking, and who transports you and/or makes your experience of looking at their representations bloody.
What was the last book you read that you really loved?
I'm not a reader but a friend just sent me the unofficial 22 Stories by JD Salinger. I'm looking forward to digging into that. (Thanks Matt!)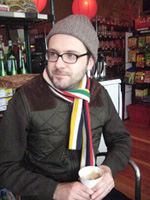 Lee Henderson
* * * * * * * *