Indigenous Perspectives:
Troy Sebastian in Conversation
with Leanne Betasamosake Simpson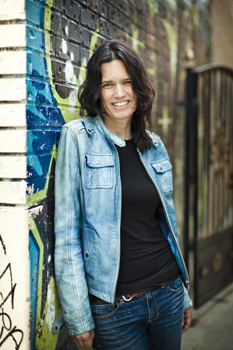 Troy Sebastian, a writer from the Ktunaxa community of  ?aq̓am, recently spoke with Leanne Betasamosake Simpson about her role as creative nonfiction editor for the Malahat's upcoming Indigenous Perspectives issue. Alongside Philip Kevin Paul (poetry editor) and Richard Van Camp (fiction editor), Simpson will read all CNF submissions for consideration.
The issue will celebrate the aesthetics, concerns, contributions, and achievements of Indigenous authors living in or from "Canada," recognizing their crucial role in providing a truly complete picture of what it is like to be alive in North America in the past, future, and especially today.
Click here for full details on submitting to Indigenous Perspectives.
Why have you agreed to guest edit the Indigenous Perspectives issue of The Malahat Review?
I have agreed to guest edit the Indigenous Perspectives issue of the Malahat because I think they are showing tremendous leadership by hiring guest Indigenous editors to curate an issue on Indigenous writing. I hope they hire guest Black editors to curate an issue on Black Writing in Canada next.
What are you looking for in the submissions?
I am looking for engagement, well crafted story-telling and stories that come from a place of grounded power. I am not looking for pieces that shatter the stereotypes around Indigenous writing. I am looking for pieces that make me think. I am not looking for victim narratives.
What does The Malahat Review mean to you?
It represents a prominent Canadian literary review—very few of which have published my work, although I have submitted throughout my career. So in some ways, it represents the unattainable for me—a writing community that I exist outside of. This issue of The Malahat Review has a more profound meaning because they have supported us, in representing ourselves and our community of writers to their audience, on our own terms. That's a powerful act.
Poetry, fiction and creative nonfiction are categories easily familiar within the Canadian literary community. Do these categories fit within indigenous storytelling canon and tradition?
No. They profoundly do not. This is extremely clear to me in my own work because it moves from academic to political to narrative to short story to poetry to song, although the spine of my work is based on Nishnaabeg aesthetics and practices of storytelling. These aesthetics and practices are unknown to Canadians so my work has to also be layered and coded. I've always just ignored the categories.
Who are the indigenous writers that are inspiring you today?
The writers that are inspiring me the most are the Dene students at the Dechinta Centre for Research and Learning. Many of these students come into our program believing they are not writers or storytellings, and I am just continually blown away by the sheer talent in Denendeh. Daniel Heath Justice is also inspiring me right now with his twitter project. He is tweeting an Indigenous writer everyday for 2016 under #HonouringIndigenousWriters. Not only is he an excellent writer, but like this last generation of the Indigenous writing community, he holds our community up, continuously. There is a fantastic group of emerging writers coming up, a few of which I taught in the Indigenous writing program at the Banff Centre—Alicia Elliot, Siku Alooloo, & Gwen Benaway really stand out in my mind. One of the best things I read this year was a script from the Dead North Film Festival in Sombe'ke (Yellowknife) by Mandee McDonald and Amos Scott—phenomenal story-telling.
The Truth and Reconciliation Commission continues to shape and frame discussions both within indigenous communities as well as within Canada. Does the Commission's work influence your writing?
No.
Are there "universal" principles to writing that are incongruous to indigeneity?
It depends what you mean by "writing"—universals principles are culturally constructed by those in power, and so in that regard yes, and there are too many to name. I don't have any formal training in writing. My formal training is in the oral tradition. I write from that place, and for the most part ignore the conventions of writing.
Some have commented that an indigenous specific issue of The Malahat Review is not needed. What are your thoughts on indigenous space in publishing?
The Canadian publishing industry is a hostile place for Indigenous writers, particularly Two Spirit/Queer writers and Indigenous women. I would absolutely have no books and no audience if people before me and along with me—editors, publishers and the Indigenous literary community—had not made and held space for a writer like me, particularly because my writing is does not cater to white audiences. The Canadian publishing industry, more than the academy and this is shocking to me, is an old boys club. If it is interested in Indigenous writing at all, it is profoundly interested in a particularly kind of Indigeniety and Indigenous writer—one that conforms to the sorts of stories Canadians want to read, and ones that they can make money from. I'm not really interested in writing those stories, and actually I think Canadian audiences aren't that dumb.
Troy Sebastian
* * * * * * * *