Call & Response: Danielle Geller in Conversation with Sean Sam
Sean Sam, whose essay "Figure Balancing Over Rushing Water" appears in The Malahat Review's summer issue #215, discusses varying his tone and style, letting content alter form and vice versa, and how part of writing comes from the way we experience time in his Q&A with Malahat Review Fiction Board member Danielle Geller. Read an excerpt of "Figure Balancing Over Rushing Water" here.
Sean Sam is a Navajo writer now living in Maryland. He holds an MS in Professional Writing from Towson University. He has taught at the Emerging Diné Writers' Institute program in association with Navajo Technical University. His writing has appeared in The Westchester Review, Salt Hill, RED Ink, and Potomac Review. He is a co-founder of Ligeia Magazine, a literary website based out of Baltimore. Find him online at https://www.seansam.com/.

One of the ways you could describe your essay is as a braided narrative. There are two main threads, but one of them (on viruses) is frequently disrupted, severed. How did you come to this structure?
I was reading a lot of nonfiction in the contemporary style—bricks of prose poetic text layered with white space. That aesthetic works well for topics about which the author feels ambiguous. But the more structured, braided style suited this piece because of its embedded childhood anecdote, an inquiry tangential to death.
I was also searching for an approach to writing about the pandemic. Rather than focus on lockdowns and masks, I chose an angle of curiosity. The more I researched viruses, the more questions I had. Every question—especially the basics (Is a virus alive? How did they first evolve?)—seemed to carry me to the same result. Theories without resolution.
The severed style returned for the viral passages. I like letting content alter form and vice versa, a sort of melodic call and response between those concepts. Where answers did not exist, I searched anyway, hacking at it like smashing a stone against flint. The structure began to fissure into a sharper shape.
Part-way through the essay, there is a shift in perspective, one you describe as a kind of out-of-body experience. The narrative eye, the "I," describes himself as if from above. The way the essay closes also plays with perspective and point of view: "See the boy on the ladder…. He must be careful." Could you speak a little about narrative time and distance? About memory?
I can't say why people write or make art, but I think part of it comes from the way we experience time, and, by extension, how we access our memories. Time is a substrate we see through.
For a dog, memory and time are like a circle, a field to constantly explore. For us, time is like an arrow or a line. We can float over this arrow in our minds, landing here or there when we remember someone. From an early age, we can see the end. When I write nonfiction, I'm trying to solidify something along that line, a feeling or impression, letting other people experience it too.
Once you choose the details to enhance, what to leave in or leave out, modern creative nonfiction is almost as artificial as fiction, constrained only by the truth. So, my original memory was written over, still reflective of the bare facts, but now a palimpsest for a different point of view. I hope this sudden shift helped the piece remain close to an issue in most of my writing—consciousness as an eerie container.
You're one of the founding members of a relatively new online literary magazine, Ligeia, based out of Baltimore. What aspects of editorial work are most exciting to you? Has serving on an editorial board changed or shaped your relationship with your own creative work?
There's a lot of freedom. The site looks the way I want because I built it by hand. To have this space is a blessing. What excites me about the process is discovery, finding new voices, or finding pieces from established writers that were turned away because they were too strange or too dark or too something. Every issue takes a significant amount of time, but I want to do right by the authors and present their work in the best way.
Working on Ligeia has helped me accept more of my previous risk-taking. I've always enjoyed varying my tone and style. But even in the indie world, many places only publish one type of writing, "transgressive" or rejection, "MFA polished" or rejection. That is not Ligeia and never will be. We have a style, but it is more along the lines of Wittgenstein's concept of a family resemblance—one at a strange reunion.
In K'é, the Navajo kinship system, we're related! We share a blood clan: Tsi'naajinii (Black Streaked Wood). It's worth clarifying that we had never met before now, but as I was preparing this interview, I also realized we'll both be teaching and reading for the Emerging Diné Writers' Institute, which is happening online again this year. These digital spaces and events have opened up opportunities for community and connection, especially for urban NDNs, but there is pressure to return to in-person formats, to gathering in a single place. What do you see for the future of our literary communities? How might we strike a balance in the future?

Yá'át'ééh, and congrats on publishing Dog Flowers! Yes, the event was great, with a ton of talent involved on all sides, and I was very impressed by the students' work.
I have spoken about the issue in your question with a few other writer friends. The consensus trends toward wanting a mix of both in-person and digital events in the future.

Because of the places I've lived, accessibility issues have followed me everywhere. I loved attending zoom readings with authors across the country this past year. And I would not have been able to teach a class with EDWI offline because of my current distance from the Navajo Nation.

We could have dedicated days or hours for online events, even if most of an event is offline. I also don't believe as much is lost in digital readings compared to teaching (aside, of course, from the drinks afterward). I would like to see at least a hybrid future.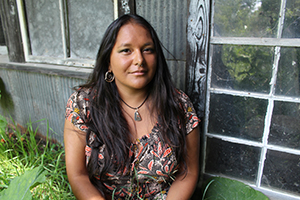 Danielle Geller
* * * * * * * *