A Revolution: Andrea Martineau in Conversation with Rebecca Salazar
Malahat Review volunteer Andrea Martineau talks with the 2021 Open Season Awards poetry judge—and 2015's Open Season Poetry winner—Rebecca Salazar about recognizing a winning poem, their perspective on contests, and how current events have impacted their reading and writing.
Rebecca Salazar (she/they) is a queer Latinx writer, editor, and community organizer currently living on the unceded territory of the Wolastoqiyik people. A poetry editor for The Fiddlehead and Plenitude magazines, Rebecca's previous publications include the chapbooks the knife you need to justify the wound (Rahila's Ghost) and Guzzle (Anstruther). In 2019, Rebecca was selected as a finalist for the Bronwen Wallace Award for Emerging Writers. Her first full-length collection is forthcoming from McLelland & Stewart in 2021.
You wear many hats as a nonfiction writer, a poet, a poetry editor for The Fiddlehead and Plenitude, and a PhD candidate. How does your role as a poetry editor impact your writing, and vice versa?
Editing has taught me more about my own writing than possibly anything else. I've had the privilege of reading so many different kinds of poetry at so many stages of their development, which has opened me to more possibilities for what poetry can do than I ever knew existed. I highly recommend volunteering to read submissions for a local journal, even for a short while, no matter what stage of your writing life you are in—there is gold in the slush pile, though not always the kind you expect.
Approaching editing as a writer also makes me deeply aware of the ethical stance I take as an editor. Having worked with a range of editors myself who have been everything from spiritually empowering to cruelly exploitative, I am always asking how I can meet a writer in their own world with consent and respect. Editing, for me, is about asking how I can facilitate what a poet's work is doing, rather than imposing my own biases or ideas of what poems "should" do. I have learnt to respect my own instincts as a writer, but also how to be wrong about someone else's work—once you accept that you can be wrong about poetry, you open yourself to being surprised by it.
When do you know you've found a winning poem? Is it instantaneous recognition upon first reading, or is it something you become aware of after multiple readings of a piece?
This varies wildly, depending on the poem! I am interested in poems that feel urgent and necessary. Sometimes, this means they strike like lightning at a core you didn't even know existed, but other poems manifest that urgency as a slow, expansive unfolding. A winning poem, for me, is a revolution—it changes how readers see the world, as gently or as explosively as the poem needs them to.
In a 2015 interview with The Malahat Review, you mentioned the importance of writing contests for literary magazines and how they can be a tool to introduce young writers to new communities. Do you have any advice for new writers wanting to take the plunge and enter their first contest?
My perspective on contests has changed a little since 2015. From an editor's perspective, I have seen how important contests are to sustain a journal financially, to help pay their contributors, and also to attract new voices and first-time contributors. I have become more critical about the inaccessibility of contest entry fees for writers who are underwaged, financially precarious, and often otherwise marginalized. I do think that writing contests could make some structural changes to be more accessible to people who are usually excluded from them, and want to challenge journals across the board to imagine how this could look, and to enact that change.
For writers, I still believe that contests are a great way to get used to submitting. Something about the deadline and closed nature of a contest can be less intimidating than an open call, and can be a way to ease yourself into sending poems to a journal you like. For those who can afford them, the benefit of contests with entry fees is that this often comes with a subscription, giving you access to a wealth of new writing and the community that gathers around a journal.
Many folks have been reading more to pass the time while stuck at home due to COVID-19 restrictions. What have you read recently during the pandemic?
I recently completed the Sealey Challenge, which is poet Nicole Sealey's challenge to read a book of poetry every day through August (chapbooks count, thankfully). Some highlights from the 31 books I managed to read that month were actually recent releases, whose book tours were interrupted or cancelled by the pandemic: Amber Dawn's My Art is Killing Me, Danez Smith's Homie, David Ly's Mythical Man, and Lauren Turner's The Only Card in a Deck of Knives. Others had been on my to-read pile for some time: I'm still reeling from reading Natalie Diaz's When my brother was an Aztec and Donte Collins' Autopsy.
Speaking of the pandemic, have you found that the current events we're experiencing have influenced your creative practice in anyway?
The pandemic has definitely changed my writing practice—I have only written one new poem since it began, and am honestly finding it difficult to work on an ongoing project about trauma and chronic illness while those exact issues are magnified on an overwhelming, global scale. I am trying to be kind to myself about not producing new work while a planet-wide acute illness has coincided with a mass resistance to white supremacist police violence, and with wildfires amplified by climate crisis, and with a provincial government in New Brunswick that keeps decimating healthcare access while all of this rages on… and so on. Poetry is an important part of how I engage with the world, but lately, so are things like sewing masks for myself and my friends, donating to mutual aid funds, and amplifying the voices of the Black and Indigenous communities that are most affected by the combined crises of this year. I think a creative practice during this time includes more listening than usual. This is a gathering and giving period, for me, at least. The writing will come when it is ready.
The 2019 RBC Bronwen Wallace Award Jury described your suite of poems, Your Public Body, as "difficult poems for a difficult time." What is your approach for tackling difficult, triggering topics as a writer?
It sounds obvious, but writing about difficult things will always be difficult. Finding support for your writing and your mental health matters: whether this looks like having a trusted writer friend to edit and discuss your poems with you, or having grounding mechanisms in place while writing, or having a therapist who understands your practice—ideally, everyone could access all of the above. Something jaye simpson said about performing difficult poems to an audience, in an episode of Can't Lit podcast, has always stuck with me: "if I'm going to bring the audience into hell with me, I better bring them back." I think this applies to yourself as a writer, too. Writing ethically includes keeping yourself safe, no matter how dangerous the poem needs to be.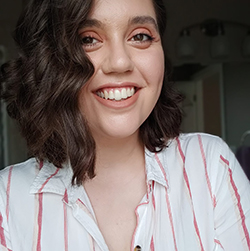 Andrea Martineau
* * * * * * * *