Two Poet Laureates: Yvonne Blomer
in Conversation with Janet Rogers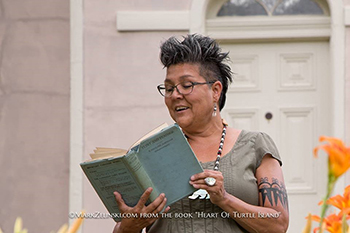 Victoria's Poet Laureate Yvonne Blomer talks with Janet Rogers, former Poet Laureate and the inaugural WordsThaw Prize judge for 2017. The WordsThaw Prize is open to all emerging writers who live within the Capital Regional District (Victoria and surrounding areas). Two prizes of $500 will be given away! Click here for details.
As the judge for the WordsThaw Prize for Victoria writers, can you tell me what you look for, regardless of genre, when you are judging a prize?
Well I have to be honest and say I don't do a whole lot of judging of literary work. I have sat on numerous Canada Council and BC Arts juries for a variety of programs for funding applications, and in the end I wish everyone could be funded and everyone can be published. Competition in the arts is a funny thing.
But what catches my eye (and ear) is a fresh voice. We are so fortunate to be artists in a time when the cannons of what we create are not stifled by traditional practices. Readers and audiences are as intelligent and educated as every before but they are also open—open to receiving (if not appreciating) really innovative ways of using our literary expressions.
You've just launched your fifth book, Totem Poles and Railroads. Can you talk a little about writing your fifth book, and how through previous books your relationship to your own writing has shifted?
I wrote the majority of the poems in my latest book during my Writers in Residence terms at UNBC in the winter of 2015/2016, and during my Visiting Artist Residency at the Ontario College of Art and Design in February 2016. I had no intention of writing a new collection of poems at all. My plan was to write a radio play while up north last winter. But these poems kept coming through. It took me a while to realize there was a new collection forming, but once I came around to that realization, the rest flowed like a river. And I want to mention the Nechako River in Prince George on traditional Lheidli T'enneh territory; upon arriving, during the residency and before leaving, I made sure to introduce myself to those lands, speak my intentions and offer tobacco to the ancestors of those lands. The lands and the ancestors responded by gifting me this new collection of poems. I feel very confident about Totem Poles and Railroads because I had the concentrated time to say everything I wanted to say in the way I wanted to say it. I was also responding with poetry to the TRC's Calls to Action and reflecting on our collective relationships within this country. The manuscript was quickly picked up by ARP Books in Winnipeg and has been launched in four cities. This book has a life of its own and I am happy to follow the lead of that energy.
I want to ask you about the interstices between being Indigenous and working as the City of Victoria's Poet Laureate and writing your most recent book, a book of poems that explore the ongoing and fraught relationship between Indigenous people and Canada. I am drawn to the complicated engagements you've been thrust into through your role(s) and what that has meant to you?  
I think I can respond to your question. I think for the most part there has been a lack of foundational history on these territories, which most people have been unaware of. Generally speaking, history may begin after the written word for some, history may begin after contact and for others history may be much shorter than that. One of the first orders of business asked of me during my term as Victoria's poet laureate was to write an official Victoria 150 poem. I felt the weight of the responsibility of that but I also saw the opportunity to put the Indigenous peoples of this territory in the forefront of that historical recognition. That's exactly what I did. I am an Indigenous poet 24/7. I speak for myself in my poetry but I am also aware that what gets out there in the public can also be perceived as "speaking for all Indigenous people." I want to get it right and I want to get it "good." And it was part of my mission throughout my term as poet laureate to promote more Indigenous voices at all the events and readings I was asked to do. I was one of less than five people of colour attending the Victoria Book Prize events during my term and that was because I was reading at those book awards. I mention this to say a lot has changed, but a lot still needs to change around inclusivity especially in Victoria.
Thank you for your answer. I had to write a poem for Canada Day in my first year and was struck with a kind of panic at what I could possibly say about Canada under Harper with so many environmental and human rights issues on the table. We are moving into 2017 which is the 150th anniversary of Canada and this anniversary will happen in what is also being termed a year of reconciliation. How do you reconcile these two historical and present-day events?
I don't see it as my job to reconcile either of those terms. Those terms have been cooked up in a political word lab somewhere, placed on a tray and offered to us. It doesn't mean we have to take a bite. Having said that, I will likely respond to some aspects of 2017 (which I see as being the push-me-pull-you year). For example, I plan to respond to Chief Dan George's Canada Lament written and performed in 1967. It's a great piece of unapologetic writing by a man this country revered and it's a great measuring stick of how far we've come or not come in our 500-year-old dysfunctional relationship.
What are some of the conversations happening around the dinner table or at cafés between you and the artists you hang with?
We think it's going to be a busy year for Indians.
Coming back to the prize judging, what kinds of work are you hoping to receive as the judge for this contest? What work are you drawn to? 
Authentic, original work. Work that has a somewhat developed voice but doesn't have to be a polished or professional voice. Written work that says what the author wants to say, not what the author thinks the reader wants to see. I am not drawn to nor do I support "tourist" fiction defined as an author who has no history, connection or direct experience with the subject they're writing on, but chooses to write about it because the subject is topical or provocative. I like experimental writing. I like passionate writing.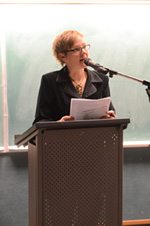 Yvonne Blomer
* * * * * * * *