A Reason to Disturb the Gods:
David Eso in Conversation
with Sina Queyras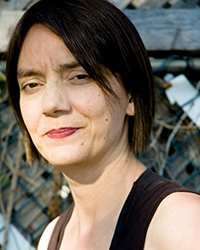 Malahat poetry board member David Eso talks with Open Season Award poetry judge Sina Queyras about the rewarding writing life, Montreal's poetry scene, and up-and-comers on the Canadian landscape.
Sina Queyras is the author most recently of MxT and the novel Autobiography of Childhood, both from Coach House Books.  She has been nominated for a Governor General's Award, and the Amazon.ca first book award, and has won a Lambda, the QWF, the Pat Lowther and the ReLit. She currently lives in Montreal.
As an Open Season Contest judge, you read a staggering amount of new work, often by emerging writers. I wonder what elements of a poem might factor into your decisions, for or against it.
I'm always looking to be stunned by a work. I want it to stop me in my tracks. It need not be a lyric revelation, it may be a more abstract lyric accumulation, but whatever aesthetic form the poem arrives in, I want it to shake me to the core. That's what I'll be looking for.
When faced with difficult decisions, what tools do you use to fine tune your discernments? How do you evaluate poems with different voices against one other in making your evaluations? Does each poem provide its own criteria or can you rely on certain generally applicable standards?
I have a fairly rigorous grading rubric that I share with my students. It parses the qualities of the A versus the A+ poem in some detail. But if it comes down to ten poems that are all equally strong there is going to be something about one of them that stops me in my tracks, something with a sense of urgency, a poem that has taken an emotional, intellectual or formal risk and pulled it off with grace, a poem that I didn't see coming.
As a winner of many literary prizes yourself—including the Amazon First Book, the Lambda, the QFW, the Pat Lowther, and the ReLit—how do you assess the value of literary awards in Canada today? What have some of these awards done for you? What have they meant to you, on a personal and professional level?
A writing life is reward in itself. Not that awards aren't nice, they are, particularly for the people who give them and those who receive them. Winning a prize can make the difference to a hiring committee for the rare tenure track job, or influence who gets supported institutionally with fellowships, etc, and therefore who has more—or well-paid—writing time. They can also make it easier at dinner parties because let's face it, admitting one is a poet several decades after everyone has given up the urge can be difficult. In fact, when I said I was a poet at a party recently, someone quite literally turned and walked away with a look of horror. Actually, I'm not sure my saying "prize-winning" would have helped my reception in that instance.
On the other hand, there are prizes—particularly for the emerging writer—that announce one to potential readers. These are important and I am in full support of them. One needs career markers, goals, and achieving those goals keeps us going.
I hope you can tell us a little about the writing communities you are a part of. With you, David McGimpsey, and Stephanie Bolster all teaching creative writing at Concordia University, that must make for a lively working environment. What has that professional space offered to your writing?
I can't think of a more exciting creative writing department in Canada, to be honest. I'm very fortunate, as are our students.
What is your impression of the poetry scene in Montreal? What kinds of venues are generating the most excitement? Do you find many opportunities for multi-lingual poetry events in your city? How would you characterize the relationship between practitioners of spoken word, lyric, narrative, and experimental writing?
My students are doing kickass work and Montreal is a foodie performance lifestyle paradise. What kind of work? Starting journals, curating pop up events, performances, creating, being part of things. Readings are really well attended. The scene is sprawling out, literally into the parks and fields and alleys. Montreal may be the last affordable cosmopolitan location in North America and people are still able to have really engaged lifestyles. There's a lot of cultural diversity. Rich veins of art practices. This city is bursting with enthusiasm and talent—some of it multi-lingual—and yes, some of it stops me in my tracks.
Would you say a few words, if not about your recent work, then about how your vision of and for poetry may have shifted since composing your latest poetry collections, Expressway and MxT?
I'm currently engaged in a project around Sylvia Plath's Ariel, and it has been the most difficult project I've undertaken…though my partner says I say this about every book. I'm fairly certain I didn't say it about Lemon Hound because that was an expression of pure joy, though I was unsure that it constituted "poetry." This project is pricklier: the texture is onerous, emotionally fraught. There's so much tension between the demands of Plath's original work, my reading of it, the criticism built up around it, the duelling biographies, the legacies, the various claims, the existence of her daughter, Frieda, and her relationship to the work, the legacy of Ted Hughes' husbandry of the work, his battle with feminists, the state of campus and literary community sexual politics. I've been through so many versions of the manuscript and really thrown much of it out again and again. Early on, the poem by poem was fun, but when you're revisiting an entire book, a book with such weight, you want to make the whole into something with punch and clarity, you want to have a reason to disturb the Gods.
Lastly, can you tell us what you are reading at the moment? Are there any new poetic voices you would like to draw our attention to?

Well, speaking of the emerging writers… I've just read, and been really blown away by a manuscript from Claire Marie Stancek, a PhD student at Berkeley. One of the strongest talents I've seen in my years at Concordia is Frankie Barnet, a young fiction writer. Metatron (a small Montreal press started by one of my former students, Guillaume Morissette and the dynamic Ashley Opheim) just published a small book of hers. I'm working with several talented graduate students now including Colin Fulton, Jessica Dolan and Tess Liem. David Bradford, a student who was in the first class I taught at Concordia some seven years ago now, is off to Guelph this year to work with Dionne Brand and I'm eagerly anticipating what he comes up with. Oh and look for Laura Broadbent, another former student with a book out this fall with Coach House.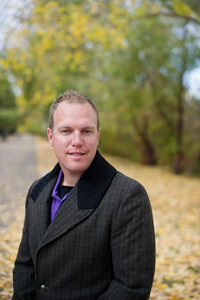 David Eso
* * * * * * * *