Craft Matters: Rowan McCandless interviews Michelle Poirier Brown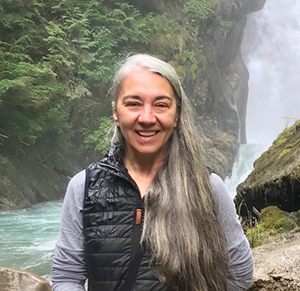 Past contest judge Rowan McCandless talks with Michelle Poirier Brown, this year's Open Season Awards creative nonfiction judge. They discuss reading for relationship, taking risks, and how writing can be a somatic experience.
Michelle Poirier Brown is a writer and performer living on unceded syilx territory in Vernon, BC. She is nêhiyaw-iskwêw and a citizen of the Métis (Michif) Nation. In 2022, she published You Might Be Sorry You Read This (University of Alberta Press) and was named a Writer to Watch by CBC Books. Her book is shortlisted in the Robert Kroetsch Award for Poetry and is a finalist for the SCWES Book Awards for BC Authors in two categories, Poetry and Indigenous Voices. Her prose has appeared in The Malahat Review, Release Any Words Stuck Inside of You II, The Fieldstone Review, The Sun, and the anthologies Dis(s)ent and Don't Tell: Family Secrets by Demeter Press and she has appeared several times on The Flame stage. Michelle's essay "The Amnio Journal" was a 2021 Malahat Review nomination for a National Magazine Award in the Personal Journalism category.

Your poetic memoir, You Might Be Sorry You Read This, crosses genres. How important do you think hybridity of form and the pushing of boundaries is in creative nonfiction?

That You Might Be Sorry You Read This crosses genres was not a choice. I set out to write a memoir, but couldn't generate a straight line. Then I set out to write poetry and a lot of it turned out to be about my life. There's a piece that used to be prose and is now a poem. There are several unlineated poems; the stanzas of "Wake" look like prose paragraphs. In actual prose, I strive for lyrical.

Some people set out to blend form. I benefit from the boundaries they've broken. Otherwise, the requirements of "form" would have denied me publication and I'd have had to remain silent.

And if other writers whose creative work spills out from the sides of previous notions of "genre" benefit from the publication of my nonconformist work, well the credit goes to the publishers who made space for it.
Currently I'm rereading Tara Westover's Educated which constitutes a more linear, traditional narrative. It incorporates themes of resiliency and family dysfunction amongst others. Can you please share what books you are currently reading and what attracted you to them?
These days I'm reading for relationship. The Saskatchewan artist and poet Diana Hope Tegenkamp is a new friend and I just finished their book of poetry, Girl running. I first met Diana's work in video productions of two poems from this book. Diana is unbound by genre. What they do with language and what they do with image—both astonishing and magical.

In the same spirit, I'm reading a lot of work by people I will be on panels with at the Victoria Festival of Authors, including Helen Knott's beautifully crafted memoir In My Own Moccasins, Katłįà Lafferty's This House Is Not a Home, an intergenerational coming-of-age novel about the northern housing system, and Angela Sterritt's Unbroken, documenting her investigative journalism focused on MMIWG and her own survival on the streets. I'm also reading cnf published in The Malahat Review by Daniel Allen Cox, Paul Dhillon and Sandy Ibrahim.

One of the highlights of my summer reading was the novel Assembly by Natasha Brown. I'm working on a long (possibly book length) poem in parts and a friend felt I would resonate with how Brown structured her story in sparsely told vignettes. Stunning book.
Often creative nonfiction encompasses tough terrain. What was your process in writing your memoir and how did you navigate and negotiate difficult subject matter?
I often don't know what a piece of writing is about until it's finished because writing is such a somatic experience. I'm expressing what's going on in my body. Navigation and negotiation are apt words because truth can be a swift river with hazards.

The hardest poems to write are the angry poems. It's such an uncomfortable feeling, having all that urgency inside. It's because I can never be only angry. I also have to feel the fear that comes with breaking a taboo or taking up space. So writing about my anger is always unnerving. It scares me and my heart rate goes up every time I consider a finished piece for submission.

For the difficult poems, I'm often addressing someone. I like to stand a lot when I'm writing. As a result, some first lines presented themselves as an address to the space outside my living room window in Victoria, a permaculture garden that was designed to entice me out of the house when going outdoors seemed too much to take on. But it is equally likely I was in bed, laptop in front of me, staring into a corner of the room and addressing the space.

On those occasions when a first line came, I let it say what it needed to say. I gave the next line and the next permission to speak, despite the objections of my physical heart. If I began to shake, I heated a bean bag. I befriended the voice I was listening to. I let her have her say. I relieved her of any and all concern for how unwelcome a reception what she had to say might receive. I agreed to receive it. I agreed to speak it.
For a writer, winning a contest such as the 2023 Open Season CNF Award means validation, recognition, a readership, and of course a monetary reward. As the judge of this year's contest, and given the vastness of form, craft, and content, what are you looking for in an award-winning piece?
I will be looking for writing that creates intimacy and immediacy, that gives me access to experience I would not otherwise have. Writing made credible with vivid detail. I appreciate playfulness in the use of vocabulary, but it is only impressive when it is also apt.

I'll look at dialogue. Was it well used? Do we get full scenes?

I'll notice humour.

I don't anticipate giving preference to a story solely on the basis of its subject. It's not enough to take risks, you have to take risks well. It's really about craft. Even with an innovative approach, craft matters.
What excites you about the genre of creative nonfiction? Can you recommend some cnf authors to our readership?
Susan Olding's Big Reader: Essays immediately comes to mind. Olding is a master of the braided essay and the collection shows off both her intellectual rigour and her poetic discipline. She brings literature into focus by braiding her exploration of it with searing details of her own life—and brings us into her personal experience with illuminating literary artistry. It is a book worth studying and a delight to read.

Marie Therese Maillot' heart berries. I rarely reread a book. I would make an exception for heart berries. She takes us inside her experience of the world. "I couldn't distinguish the symptoms from my heart. It was polarizing to be told there was a diagnosis for the behaviours I felt justified in having. And then, I knew some part of my disease was spiritual or inherited." Polarizing. What an exact word.
What project(s) are you currently working on and how do they relate and resonate with your prior body of work?
I'm working on two projects. The one furthest along is a verbatim theatre monologue about a major PTSD episode (lasting several weeks) that was triggered by an aggressive call from an investigator at the insurance firm that paid my disability pension. The 35-minute monologue is broken into sections interlaced with extracts from performed "poetry readings" from the memoir that provide the back story for the PTSD. Working title: Come, Learn to Do Laundry.

I'm in the early stages of a long poem in parts on identity. It addresses the question of what it is like today to be the person who has my life story. These poem parts are quite short. I've got about 50 of them written and feel like there are dozens more inside. But the work is also an exploration of identity by looking at the life of my grandmother's grandmother. A few of these poem parts are written, but mostly the grandmother part of this project is a bunch of Post It notes on my studio wall with red threads taped on to draw lines between notes about historical events and notes with genealogical data. I'm learning that to look at the life of Caroline Henault is to look both at the life of the buffalo hunt, and at the role of the Catholic Church in the making of Canada.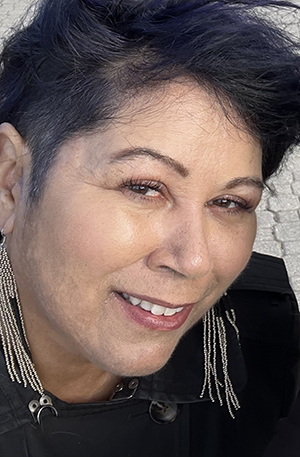 Rowan McCandless
* * * * * * * *