Stories Follow Us: William Thompson in Conversation with Lishai Peel
Malahat Review volunteer William Thompson talks with the 2021 Open Season Awards creative nonfiction judge—and 2019's Open Season Creative Nonfiction winner—Lishai Peel about what she's looking for in a winning piece, her background as a performance poet, and the possibility to give or receive a story.
Lishai is a writer and educator based in Ontario. She has spent a decade designing and facilitating spoken word and writing workshops in schools throughout Canada and has also worked as a poetry coach with The Toronto Public Library. Her creative nonfiction won first place in The Malahat Review's 2019 Open Season Awards and her poetry came second place in The Vancouver Writers Fest Short Story and Poetry Contest in 2017. Her work has also been shortlisted for The Puritan's Thomas Morton Memorial Prize in Literary Excellence (poetry) and Room Magazine's Creative Non-Fiction contest. She is the co-author of a graphic novel, Why Birds and Wolves Don't Trade Stones. Her second book of poetry is forthcoming with Write Bloody North Publishing. She can be found on Instagram and Twitter @lishaip.
As a contest judge, and also as a former Malahat Review Open Season Awards CNF winner, what are you looking for in a winning entry?

I am so excited to be one of this year's judges. It is such an honour to experience reading the works of new Canadian talent. This year I am looking forward to reading works that give me pause and honestly invite me into their world. I want to read something that makes me feel deeply and think expansively.

Writers often refer to their writing practice as a way of encompassing their writing life. How do you understand your own writing practice, and what do you consider necessary parts of that practice?

I began writing as a performance poet. Spoken word and works that were largely meant to be lifted from the page were my entry point. It became an exercise not just in writing but in embodying and moving my own words towards creating a language that was distinct to me and my body. Now, as a largely creative nonfiction and prose writer, I find that so much of my identity, my family lineage and history, and my cultural context takes precedence on the page.

In writing, I form a new type of knowledge that allows me to better understand not only who I am but where I have come from. For now, this type of inquiry remains a necessary part of my practice.

You have lived and worked in many places, and you have referred to yourself as a community storyteller. How do you bring stories of people and place into your work as a writer? What process do you follow from words and stories to words on the page?

I think stories follow us everywhere. I'm a very visual person and often I think that if I were a photographer, I would probably see frames and images encased in them everywhere I went. Through the years of traveling and spending time in different creative contexts, I can recognize a story right away, even if it's hidden or only partially told. The possibility to give or receive a story exists in every moment and with every person who crosses our paths. Part of my practice is not just writing, it is also listening and asking questions. When I find myself in unfamiliar contexts, the writing is often not very intuitive. Instead, I let experience and forging new relationships take precedence over the writing and immerse myself as much as possible. I believe you must live deeply and fully to be able to gather stories, without the expectation that those stories will one day end up being put on the page. Some stories are only told once and in the moment and do not demand a re-telling.

You have also worked variously as a teacher and a consultant. What has working with community groups taught you about yourself and your writing?

I really enjoy the opportunity to work with youth and children in communities. I think as writers we have a certain type of responsibility to readers and other writers to encourage storytelling in all the different forms they take. In these spaces, where there is freedom to share and create, I learn how much people are yearning to tell someone something, to be heard and seen. It serves as a reminder of the necessity to continue to carve out spaces for young voices to shine, especially BIPOC youth who have historically been excluded from traditional literary spaces. This practice of being in community also allows me space to work through questions and ideas that inform my writing.

Which writers do you consider literary mentors? And how have those mentors had an impact on any of your past or current projects?

Ayelet Tsabari has been the mentor of my dreams! I've been so lucky to work with her this year through the Writer's Trust mentorship program. My writing has come a long way since working with her. My confidence as a writer too. I was also very fortunate to work with Alicia Elliott last year through Room Magazine's mentorship program. Working with Alicia was my first solid entry point into writing creative nonfiction. And the year before that, I was mentored by Karen Connelly who guided me deeper into my poetry practice. In the fall, I'll begin a mentorship with poet Alessandra Nacarrato who has a way of seeing the potential in everything I write, even when I don't see it myself. Mentorship has always been very important to me since I started writing and I myself have mentored many emerging youth writers over the years while also receiving mentorship.

My Canadian literary heroes include Catherine Hernandez, Jillian Christmas, Leah Horlick, Maheen Hyder and Kayal Vizhi just to name a few. I feel so grateful to live in a country that supports the arts and celebrates its writers, and especially grateful to have a community of incredible women writers as role models and mentors.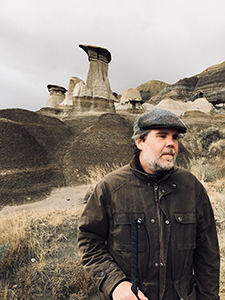 William Thompson
* * * * * * * *