A Way To Start, Not A "Win" or "Lose" Game: Vanessa Herman in Conversation with Susan Olding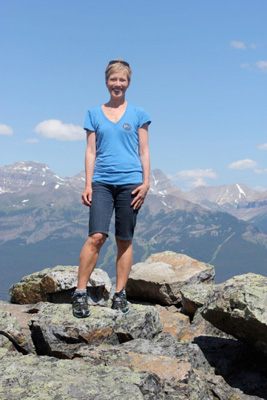 Malahat
volunteer
Vanessa Herman
talks with the judge for our 2013 Open Season Award for creative nonfiction,
Susan Olding.
Tell us about yourself. Where do you live and what do you write? Do you have a favourite haunt to write at, such as a library or park?
I live in Kingston, Ontario, in a 19th-century row house. I write mostly in my tiny third floor study, a former maid's room. It looks out onto a brick wall about 8 feet away. This is great for concentration. And it's not as bad aesthetically as it may sound. The bricks impart a rosy glow to the light. Also, I can see rooftops and trees and clouds. So it's actually quite elevating.
Are you working on anything right now? A book of poems? A collection of short stories? A novel?
I'm working primarily on a novel and a second nonfiction book. But every now and then I'll write a poem, and in fact most of my publications this year are in that genre. I have poems coming out in The New Quarterly, in the anthology, Desperately Seeking Susans, and in a Kingston-area anthology called That Not Forgotten.
You were at the Banff Centre this summer. What were you working on?
At Banff I was a participant in the Literary Journalism program. LJ, as they call it there, is a fantastic opportunity for nonfiction writers who want to develop a long-form article or essay in consultation with a faculty editor. Participants get the use of a Leighton Studio cabin during their stay. While you're there, you don't have to cook or clean or answer to anybody except the others in the program. The only chore you need to do is your laundry. I was fortunate enough to work with the gracious and astute Katherine Ashenburg, as well as the program's current director, Ian Brown. I met some terrific writers and visual artists at Banff. My co-participants were a talented, smart, hard-working, and very funny group of people. I also went on some amazing hikes.
Do you usually take a literary retreat at one of Canada's many writing centres?
No…but after my most recent experience, I wouldn't mind doing it more often! In all seriousness, semi-regular retreats are crucial to my process. I'll bet this is true for most writers who are full-time parents as well as for writers who have full-time day jobs. I fall into both those categories, so a month away was luxury! But "retreating" doesn't require any particular institutional set-up. I've created productive retreat opportunities by asking to housesit for friends here in town when they were away, or by taking off for a weekend alone or with a writing friend. Having said that, a longer stretch of time and the absence of other responsibilities was a huge privilege, and a true gift.
What is it like to go from being a contestant to being a judge for a contest such as The Malahat Review's Open Season Awards?
It's an honour to be asked to judge one of these contests, and also a bit of a terror. Who do I think I am, and all that. After all, I'm still occasionally entering said contests! But I've never actually entered the Open Season Awards. I'm looking forward to reading the entries.
For you what makes good creative nonfiction? If you could name an essential element, what would that be?
I'm excited by the flexibility and capaciousness of this genre. As Annie Dillard famously said, you can do anything in creative nonfiction—anything at all. That's why it can be tough to isolate any one essential quality. What's necessary to one kind of piece won't be crucial to another. Having said that, it's possible to generalize about a few things. Great creative nonfiction exhibits the same qualities as great writing in any other genre: command of the language, sensitivity to rhythm, pattern, sound. Sharp characterizations, structural integrity, deep feeling, original ideas.
What do you strive for in your own writing?
Truth and beauty. Also the occasional laugh.
What are you going to look for in a winning piece for the Open Season Award in creative nonfiction?
Writing that moves me. Makes me laugh, cry, wonder. Stings me to thought. 
How do contests like The Malahat Review's Open Season Awards contribute to Canadian literature? Do contests play an important role for upcoming authors, or established ones?
When I was starting out, very few literary journals in Canada were publishing short-form creative nonfiction on a regular basis; I began by sending my work to EVENT's annual contest, not so much because I hoped to win, but because I couldn't figure out where else to send it!
So, speaking for myself, contests played a huge role in my development, and I'm enormously grateful. Without the contests, I might not have known how to get started at all. I hadn't gone to journalism school. I didn't have connections in that world, and anyway, I wasn't writing the kind of stuff that I could easily see in a newspaper or general circulation magazine. For me, contests were a way to start.
Since then, the landscape has changed enormously. Most Canadian literary journals are extremely eager for good nonfiction submissions and writers don't have to wait for a contest to submit their work.
But contests can still play an important role. First off, deadlines can spur us to generate new work. (I know that I used and still occasionally use contest entry dates to motivate myself.) Winning or placing confers an enormous boost of confidence, especially on emerging writers. The turnaround time can be shorter for contests than for regular submissions. Winning also guarantees a bit more publicity and more money—which is nothing to sniff at.
From a magazine's perspective, contests secure subscribers. Subscribers keep the magazine viable. And if subscribers actually read the journal, their work will benefit from their exposure to good contemporary writing. So in that sense, contests create a positive feedback loop. Moving forward, book publishers may take writers more seriously if they've won a few contests. Winning gives you a track record, and a sort of imprimatur. At the same time, it can be very discouraging to "lose." And the big risk with contests (and awards) is that they tend to make us think of literature as a "win" and "lose" game.  Also, they may tend to focus attention on specific kinds of writing or even certain kinds of subjects, to the detriment of other, perhaps quieter, modes. I don't actually know if that's true, but I wonder.
What I do know is that judging is inevitably subjective. There can only be one (or a couple) of winners. I can't tell you the number of times I've judged something and so wanted to tell the runners-up how close they came, or why I loved their work (even if it didn't win). I've always looked for a way to pass along that message, but sometimes there's no mechanism to do that.
So if you're going to enter contests, I think it's important to do so with the right attitude―to see it as just one avenue for possible publication. And to be persistent. Many pieces of mine failed to place in one contest only to go on to win another five submissions later. Ultimately, I think our goal should be to find that still place in ourselves where the work comes from, and just do the work. And worry about where to send it after it's done.
Who are some of your literary heroes?
John Keats. George Eliot. Virginia Woolf. Keats in particular. I used to have a sort of running joke with a writing friend. Whenever I was in a panic about anything (writing-related or not) she'd say to me WWKD? (What Would Keats Do?)
Most writers have a pile of books they're reading or want to read on their bed-stand, beside their favourite armchair, or on the morning coffee table. Which books are in your pile right now?
You mean my teetering, always-threatening-to-topple stack. Actually, stacks—plural.
Well, right now I'm reading Emily Schultz's The Blondes in preparation for an onstage conversation at the Kingston WritersFest, and so far, I'm loving its bite.
In the classics department, my daughter and I are reading Oliver Twist aloud to one another, and I've just re-read Anna Karenina for the long piece I worked at in Banff.
Next up, after Emily's book, will probably be Hilary Mantel's Beyond Black, a book I've wanted to read for some time. But I may change my mind and pick up something different at the last minute. I've been known to do that.
Do you have any advice for writers submitting to the Open Season Awards in creative nonfiction?
Trust in yourself and your story. Write the piece you need and want to write. Write the piece you'd love to read.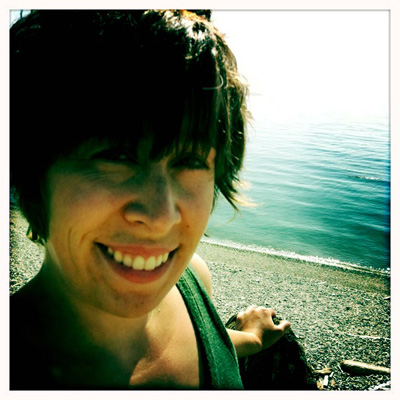 Vanessa Herman
* * * * * * * *
Check out the guidelines for our 2013 Open Season Awards.