Silence Between: Kara Stanton in Conversation with Khashayar "Kess" Mohammadi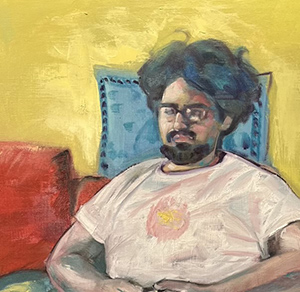 Khashayar "Kess" Mohammadi, whose poems "psychotic notebook 9" and "psychotic notebook 20" appear in The Malahat Review's winter issue #221, talks with volunteer Kara Stanton.
Khashayar "Kess" Mohammadi (They/Them) is a queer, Iranian born, Toronto-based Poet, Writer and Translator. They were shortlisted for the 2021 Austin Clarke poetry prize and 2022's Arc Poem of the year award and they are the winner of the 2021 Vallum Poetry Prize. They are the author of four poetry chapbooks and three translated poetry chapbooks. Their debut poetry collection Me, You, Then Snow is out with Gordon Hill Press. Their second book WJD is out in a double volume with the translation of Saeed Tavanaee's The OceanDweller from Gordon Hill Press fall 2022. Their collaborative poetry manuscript with poet Klara Du Plessis is forthcoming with Palimpsest Press Fall 2023.

Can you share about where these poems come from? Are there psychotic notebooks 1-20?

The Psychotic Notebooks have a bit of a long story. Each of the "Notebooks" are written over a single night, or at least conceived over a single night and then further written and edited over the next day or days; but the overall unifying feature is that they all take place towards the end of the day, where my complex cocktail of medications is wearing off and my mind is beginning to wander into its pre-medicated states. All these poems (there were perhaps a total of 50 written) were written in the strange mind fugues either before sleep or during the first couple stages of sleep where I'd either periodically get up to jot down certain thoughts or after a while, I'd simply keep a recorder running to speak lines before falling asleep (which backfired and I ended up recording 6 hours of snoring a few times!). They are numbered solely based on the sequence in which I wrote them, and they each contain the thoughtspace of a single night.
Both your poems have unique spacing; rather than either stanza breaks or typical line breaks, each line has extra space couching it above and below. What inspired this choice?
I think considering how utterly disconnected the lines were when conceived, I guess I needed some more space when writing them down. All the poems in this project are double-spaced, I guess to fit more silence in between the lines, like how I'd speak them, with several minutes of silence in between every line, lying in bed at night.
In "psychotic notebook 20" you write about the blurring between a personal and a collective body: "if I am the crowd / then why are sensations / ingredients to violence" What are the sensations? Images of violence run through both of your poems featured in this issue. What do you think poetry has to offer in response to violences both personal and collective?
I find "political writing" (whatever that may be) to be quite violent, the same way that political cinema is violent. Let's say, when you are watching a film about domestic abuse you are watching a real person go through domestic violence, though simulated; in the same way when you are reading about violence, you are being subjected to it and have again, no power over it. I dislike perpetuating violence through writing and I guess I wrote some of these sentiments unsure of how to write about violence and oppression. I also think it's important to note that these are questions I have, which are quite emphatically chosen against making statements about violence. Sometimes questions are the most constructive path ahead.
Your forthcoming book from Palimpsest Press, fricatives, was co-written with fellow poet Klara du Plessis. What brought you two together in this project, and what has the process of collaboration been like?
Well, I've seen a quite tremendous growth in the number of writing collaborations since the advent of Covid-19. I'll agree, as someone who used to work 60- to 70-hour weeks for the year or so preceding the lockdown, in the beginning I was quite paralyzed by how much free time I was given, while simultaneously not knowing what on earth to do with myself in all the free time of the first few months.

I have known Klara for years, since the launch of her first book Ekke which I'd still quote as one of my favorite debuts in Canadian literature. I always adored Klara's intelligence and her linguistic curiosity that was also very grounded and welcoming. I've always enjoyed translingual poetry, but I had never come across a translingual book of poetry more enjoyable and welcoming than Ekke. Throughout the years after our first meeting, I proposed for us to work together on a piece, but my first attempt for our collaboration was not successful due to lack of scope on my part.

During the first major lockdown I once again reached out to Klara, this time with an idea: What if we began a project that centered entirely on the fricative X, a consonant that was perhaps a prominent feature of our mother tongues: Afrikaans and Persian.

We began the collaboration with the intention of writing a single poem, which over a week developed into about 20 pages, and over a month and a half, grew more than 50. we continued the project and decided to make a full length book out of it and the process was so utterly electric, so rewarding and challenging that I've rarely experienced anything like it.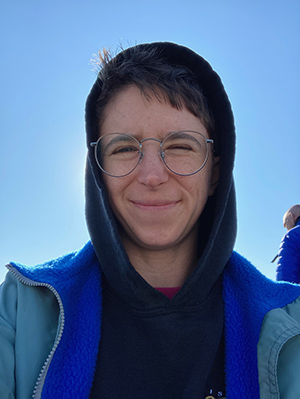 Kara Stanton
* * * * * * * *