Freshness, Originality, and Emotional Punch: PJ Grace in Conversation with Dave Margoshes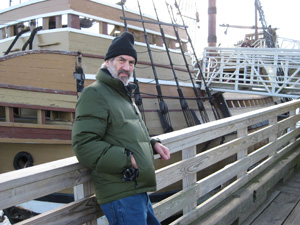 Malahat volunteer PJ Grace talks with one of our 2013 Long Poem Prize judges, Dave Margoshes, about his writing and what he's looking for in a winning long poem.
Your latest collection of short stories entitled A Book of Great Worth has the feel of a memoir, but in the afterword, you describe the stories therein as fictive. Can you tell us how your experience as a journalist helped you to blend truth with fiction in this collection?
Good question. The stories in A Book of Great Worth are definitely fiction. They were written separately, as short stories. But they're all about a character much like my father, and all begin with at least a nugget of truth; for example, in the title story, the Morgenstern character is present at the crash of the Hindenburg, as was my father, whose appendectomy stitches began to leak, just as in the story. Everything after that, though, is pretty much from out of my imagination. You're right that I was a journalist, and that's certainly influenced my writing style, but I don't know that it has any direct bearing on the way I put those stories together. But, with the possible exception of sci-fi and fantasy, all fiction is informed by the truth to some extent.
Many writers, both seasoned and amateur, speak of the Iowa Writers' Workshop as if it were an unattainable dream, and yet, as a graduate of this program, you have proven that it is indeed quite possible. How did your experience at the University of Iowa help to shape your writing? Do you have any advice for current writing students aspiring to this same program?
Oh, I think you're exaggerating. In the States, there are hundreds of MFA writing programs; Iowa's is the oldest, which accounts for its almost legendary reputation, and, it's true, has many luminaries among its graduates, but so do many other MFA programs. I don't think going to Iowa is going to make anyone a better writer than going to UVic, say, would - except that it's probably harder to get in, and so you'd find yourself among more of the cream of the crop. Anyway, I don't think my experience at Iowa shaped my writing in any discernible way. What it did do was give me the opportunity to write, and immerse myself in a community of writers and a culture of writing, for two years and get a degree for it as whipped cream on the pudding!
As a journalist and a writer of both fiction and poetry, do you feel more comfortable with one particular genre of writing, perhaps one that you "come back to" when searching for inspiration for your next work?
I consider myself a fiction writer who also writes poetry, rather than the other way around. Writing fiction is my job, but sometimes when I sit down to work, a poem elbows itself in. Always a very welcome if unexpected surprise, and I never say no, go away, I'm busy. As for the journalism, that's different; it's not really writing, rather, writing is one of the several tools a journalist uses.
You've lived in various Canadian and US cities throughout your career. Is there any particular city or town that holds your roots as a writer, any place you tend to return to when writing? Do you have advice for writers attempting to find their own "sense of place"?
No, I can't say there is. I've moved around so much, I fear I've deprived myself of that deep sense of place that so many writers draw on. But all writers return to their childhood for inspiration, time and time again, and so some of my writing, especially poetry, seems to come from the two places of my childhood, New York City and rural New Jersey. Any writer, regardless of where they've lived and for how long, would be well advised to mine their own past.
As one of the judges for The Malahat Review's 2013 Long Poem Prize, can you shed some light on your process for choosing a winning poem? What are some of the elements that you'll be searching for when reading these poems?
First of all, I should say I don't write long poems myself. Three pages is about the longest I've gone. In fact, brevity, conciseness, is one of poetry's appeals for me. So the long poem is especially challenging, I think. If it's narrative, then it has the same burden as fiction: there must be a satisfying arc. If it's lyric, the challenge is even greater: keeping the reader's attention without benefit of the prop of plot. Beyond those, I bring the same demands as a reader to the long poem as a short one: it has to have a freshness, originality, emotional punch; it has to enthrall, excite, enchant, and surprise.
Your work has won numerous awards over the years, including the Stephen Leacock Poetry Award, the 2010 Saskatchewan Book Awards' Poetry Award Honouring Anne Szumigalski, and the 2007 Saskatchewan Book Awards' Book of the Year Award. How does winning literary awards or prizes affect a writer's career and identity, based on your own experiences?
That's sort of funny. When I won the Leacock Award in 1996, then the richest award for a single poem in Canada, maybe the world, I thought, "wow, this is going to change everything, publishers will be beating a path to my door etc." In fact, it changed nothing, though the $5,000 prize was certainly nice to have. And I can't say that the book prizes I've won had any discernible impact on book sales. Certainly not the way winning the Giller, say, does. But the life of a writer is filled with so much negativity, from the ubiquitous rejection slip, to the bad reviews, to the slim royalty cheques, any kind of affirmation is good, from the acceptance of a poem or story by a literary magazine, to getting a book published, to winning a prize.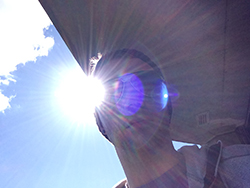 PJ Grace
* * * * * * * *