An Unexpected Perspective: Karli Woods in Conversation with Kyo Maclear
Malahat volunteer Karli Woodstalks with Open Season Awards creative nonfiction judge Kyo Maclear about bird watching, writing as refuge, and seemingly ordinary subjects treated in interesting ways.
Kyo Maclear is an essayist, novelist and children's author. She has written widely on contemporary culture for publications including Prefix Photo, The Volta, LitHub, The Millions, The Literary Review of Canada, Resilience, and Brick. She completed a doctorate in the environmental humanities in 2018 and is currently on faculty with Humber College's School for Writers (2018 - 2019), the Banff Centre for Arts and Creativity (2018), and the University of Guelph Creative Writing MFA program (2018). She lives with her family in Toronto, on the traditional territories of the Mississaugas of the New Credit, the Haudenosaunee, Métis, and the Huron-Wendat. Her most recent book is the Trillium Award winning Birds Art Life.  
Click here for details on entering the Open Season Awards contest.
As an Open Season Awards contest creative nonfiction judge, what qualities are you looking for in a winning entry?
An unexpected perspective—which could include a seemingly ordinary subject treated in an interesting way. Moments of swerve. The strangeness of language. A feeling of inwardness and outwardness. Writerly courage, depth, texture, and humour. All of these qualities draw me to writing and make work come alive.
Birds Art Life is such inspiring and original project to embark on. I am a devotee of environmental literature and for preserving the natural wildlife and I could not help but nod in agreement while reading Birds Art Life on understanding the degradation of species especially in the architecture of a city dwelling. Did the aftermath of writing this memoir change your relationship to birds for the better?

Thank you. This is so nice to hear. Yes, it has changed my relationship. Or, rather, it activated an awareness and curiosity that was quiet before. Also, fortuitously, I've continued to meet amazing people from FLAP (Fatal Light Awareness Program), local activists, citizen scientists, and other nerdy BIPOC "urban naturalists."

What do you hope your readers will take away from reading Birds Art Life?

The book is partly an ode to "common birds" and the understory of cities. I hope readers get a sense of the creaturely life that surrounds us—all the time, even when we're caught up in our own solipsistic spirals. I hope writers/artists connect to the parts about creativity. Making art is a delicate operation. There will always be forces that support and upend our efforts.

Does the overall message and theme about birds have a symbolic significance? Does the journey of bird-watching and appreciation somehow interconnect with your childhood and family as well?

I didn't approach the book that way but I suppose readers might see certain resonances—a migratory childhood, etc. I was aware as I wrote that birds are ubiquitous in popular culture and very freighted with symbolism. In my chapter on "KNOWLEDGE," I actually address this
directly and talk about the moment I realized I was carrying suitcases of bird knowledge with me every time I went for a walk—I describe it as a trove of pop ecology concocted of IMAX movies, Warner Brothers cartoons, childhood poetry, nature postcards, etc. I write about a moment when I felt that baggage fall away; the intimacy of seeing a bird (a slumbering swan) on its own mysterious terms.

You made a commentary on how living in Toronto all your life is rooted in an aloof connection to nature and parks until recently. Is there a future literary or environmental journey you wish to embark on in terms of connecting with birds, wildlife, and nature in Toronto and Canada?

Possibly, maybe. As I wrote to a friend recently, "there is no end to my ignorance...which makes every outing a surprise-delight." But, yes, I am very interested in pushing the boundaries of "nature writing" (who does it, what's it about, who is it for?)

This memoir offers such a distinctive perspective on nature through the vivid lens of bird-watching. If you could offer some advice for bird-watching for your readers, what would it be?

My advice would be to join up with a few local birders to get a sense of what's out there. But mostly just pay attention. Last weekend I saw a migratory flock of about fifty blue jays just because I looked up at the right time. A while ago, I met an avid Australian birder (writer Sean Dooley) who had a good/funny bit of advice: "Birding can be done on the sly. It's a bit like a pelvic floor exercise: no one needs to know you're doing it."

What have you learned from writing Birds Art Life? Was there a challenging or struggling aspect to writing this? Some writers find memoir and life writing therapeutic while there will be polar opposites on the spectrum, finding it difficult.

The writing was a refuge during a stressful period. But not for the reason one might expect—i.e. "art as therapy"—but because I wrote this book in the company of others (my bird guide, fellow travellers, city birds). Writing is often a solitary, self-driven and neurotic activity but this book composed my life in a beautiful, healthy, communal way.

Is there a bird that is precious or unique to you in terms of striking aestheticism and behavioral characteristics?

I have two favourites. One is the magnolia warbler. It's one of the birds that I mention in the book that comes through Toronto during May on the "Songbird Superhighway." It's a migratory bird, delicate with beautiful coloration. The other bird is actually the house sparrow, which is completely common, for now—there is actually a serious decline in house sparrow populations because of air pollution and other urban environmental stressors.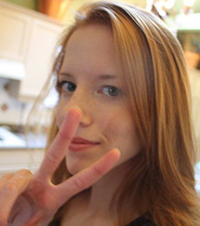 Karli Woods
* * * * * * * *