Paris over Boise: PJ Grace in Conversation with Laura Legge
Malahat volunteer PJ Grace talks with Laura Legge, author of "It's Raining in Paris", which appeared in issue #181, Winter 2012.
First off, I notice you share the same name (Laura Legge) as the first-ever elected female bencher and first female Treasurer for the Law Society of Upper Canada. There's even a Laura Legge Award for female lawyers in Ontario. Did your parents name you after her, or is this just a coincidence?
Hey, good sleuthing! The amazing Laura Legge in question was my great aunt and she was definitely a factor in naming me. My family is full of cool and ridiculously accomplished people like that. I'm really lucky.
In 2012, your writing appeared coast to coast in various Canadian lit magazines, from The Antigonish Review in the east (in which you won third place in a poetry contest) to The Malahat Review in the west. Your writing also appeared in Grain, a magazine published by the Saskatchewan Writers' Guild. Do you adapt different writing styles based on where you submit your work? When reading west coast magazines or east coast magazines, do you notice recurring themes in the pieces?
I think a writer's geography definitely informs their work. That said, because of the scope of those magazines you mentioned (i.e., they accept submissions from all across Canada, the States, and abroad), I haven't noticed specific recurring themes, beyond the general thematic threads that tie issues together editorially. I personally don't adapt writing styles based on the geographical location of the journal I'm submitting to, although I will definitely try to decide which journal a story is best suited to in terms of sensibility and tone before submitting it anywhere.
Your short story, "It's Raining in Paris," was recently published in The Malahat Review's winter 2012 issue. Can you give a brief synopsis of the piece to entice those who have yet to read it?
It's about a city planner in Paris who is responsible for creating an emergency plan after weeks of torrential rain have caused the city to be debilitated by overflowing sewers, flooded streets, etc. There's a beautiful girl and a complicated romance and smoking and everything else you'd expect from a story about Paris.
Tell us about your relationship with Paris. Why did you choose this city for the story's setting? Have you ever lived in, or travelled to Paris?
I've been once. It was gorgeous and alienating at the same time. Which I guess is true of many exceptional cities. I chose it as a location because the story itself is sort of abstracted from reality in many ways—for instance, the rain. It's a feeling perhaps as much as it is a physical fact. Paris has that ethereality, that shared place in our collective imagination, and so I thought it was fitting. "It's Raining in Boise, Idaho" isn't the same. It's probably a good story, but it isn't the same.
While reading your story, I was pulled along by the motif of rain, and the loss that seems to pour out (pardon the pun) from it. There's a strange kind of beauty in the protagonist's attempts to hold the city together using blueprints and layouts. How do the inner workings of Paris reflect the internal nature of Serge, our protagonist?
This is a hard one for me to answer, while still leaving room for individual perception. I'll say this: Serge is motivated by a desire for control. Cities are predicated on the same desire.
The story works in a non-linear fashion, providing the reader with fragments of narration as though they were photographs. What inspired you to write the story this way? How does structure play a part for you in your writing?
That was very organic. I wrote "It's Raining in Paris" that way because I felt that it presented the narrative as a simple, systematic progression of moments, memories, and emotions, and this felt true to what Serge's interior dialogue might look like. In general, I don't find myself deciding on a structure before writing a story. I decide on POV first, which is to me the most crucial, and also most challenging, element of a story. Once POV is established firmly in my mind, the structure comes fairly naturally.
What are you currently reading now? Are there any specific authors or books that you find yourself returning to for inspiration?
I just finished George Saunders's new story collection, Tenth of December, which was great. Now I'm starting Bloodchild and Other Stories by Octavia E. Butler. And I'm in the middle of a serious 1980s X-Men binge. I try not to accumulate too many things, so every book on my shelf is one I return to. There's a lot of poetry there. My favourite piece of writing is Octavio Paz's Sunstone. It's perfect. I love Aimé Césaire, Czeslaw Milosz, Yusef Komunyakaa. Anne Carson's translations of Sappho and Euripides are vital.

As for fiction, I think Sherman Alexie is a master. His voice is so strong. There's such a sense of trust when you're reading him.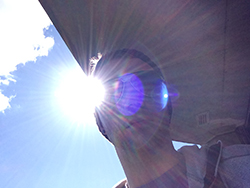 PJ Grace
* * * * * * * *
Read "It's Raining in Paris" in full on our website.