The One with the Pen: Julia Aguiar in Conversation with Ashley Hynd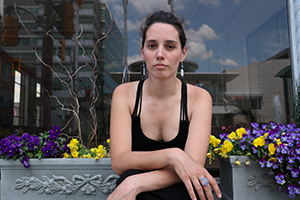 Ashley Hynd, whose poem "The Process of Growth" appears in The Malahat Review's autumn 2019 Issue #208, discusses erasure, emotional labour, and writing in a cultural diaspora in her Q&A with Malahat Review volunteer Julia Aguiar.
Ashley Hynd is a writer with mixed ancestry who lives on the Haldimand Tract and respects the Mitigyag, Manidoosh, Niiwozid, Bineshiinhyag, Gaa-babaamaadagewaad, Attawandron, Anishnawbe, and Haudenosaunee relationships with the land. Like many people with mixed heritage the knowledge of her history is unclear. According to the stories in her family they are of Anishnawbe and Cherokee descent. Her writing grapples with the erasure of her history and is an act of reclamation and a call of accountability for what has been lost.
She was longlisted for The CBC Poetry Prize (2018), shortlisted for ARC Poem of the Year (2018), and won the Pacific Spirit Poetry Prize (2017). Her poetry has appeared in ARC, Canthius, Room, Prism International, SubTerrain, Grain, CV2, Vallum, and is forthcoming in The Malahat Review.
Ashley sits on the editorial board for Canthius Literary Journal and runs a monthly brunch for local writers called Poets & Pancakes.

The first stanza of "The Process of Growth" begins, "they say identity is about who claims you." Can you tell me more about how you understand the process of claiming, being claimed, and reclaiming?
To me claiming, being claimed, and reclaiming are the same process viewed from different perspectives. Reclaiming is the internal perception by which the entire process is received, as the action of reclaiming stems from the experience of lack, that something is missing or has been removed; being claimed is the external perception by which the entire process is given, as it takes place in another's recognition of your experience of lack; and claiming, in many ways, is the observer's perception of the process.
I feel like reclamation is ongoing and fluent, constantly existing in close relationship to moments of being claimed or claiming. Perhaps this is also because many who are doing the act of claiming are in their own process of reclaiming and being claimed. Canada was a well conquered country, many cultures have been lost, stolen, and removed by its history. There is little left that has not been passed through a settler-colonial lens and the scars of that wound have been infected, preventing many from beginning the process of reclaiming sooner. I am sure much has also been lost in the waiting for younger generations to heal and come searching.   
In the poem, there is mention of a brother and a grandmother. The figure of the grandmother is especially profound. Can you speak to the notion of intergenerational relations and how it influences your writing?
Everything about who we are and how we are is given by our intergenerational relations. It fundamentally is my writing, there is nothing I do without carrying all my Grandmothers and all my Grandchildren.  That is to say that every time I pick up the pen it is because my ancestors have been waiting for the one with the pen*, I was given the gift of word through their blood memory and the responsibility of story through their history. There is nothing I can write that isn't somehow also their story, even a seemingly simple break-up poem, I have the opportunity to experience the love that inspired said poem because of all my ancestors and their choices. Likewise, the responsibility of holding that pen, even in that break-up poem, is to birth a good life for my children and grandchildren. To know that they will in turn have what they have because of me and my choices.
I found the language in the poem most poignant in the lines: "the words are inside, they just don't like the way / my tongue curls colonized." Can you talk about your relation to language as a writer?
I am not sure that I am okay with answering this question. I get that it comes from an honest place of exploration and there is a deeper question hidden beneath this question that may have been unseen upon asking it.
Asking this question of a poet/writer whose mother is thriving, whose mother tongue should be and would always have been English is extremely different than asking it of a poet/writer who only speaks English because of the forceful removal, and subsequent critical endangerment, of their mother tongue. It may contain the same words but it is not the same question in those two contexts.
Furthermore, this is the exact emotional labour I want my readers doing. That's a large part of that line's work, to make non-indigenous readers do that level of emotional labour on considering what it must be like to write and speak a language which is not of your body and bones.
You mention the Art Gallery of Ontario in the poem and write that "[…] everyone stops / to take photos with Riopelle / glances at / Morrisseau / and leaves the room." Why was it important for you to situate the poem partly in the AGO?
The poem was written in response to the experience of being a non-status, white-coded Indigenous woman in the midst of reclaiming her Identity exploring the AGO on canada day 150.
It was the first time in my life I experienced seeing not one but two Indigenous languages publicly prioritized over English. It was also the first time I experienced such a large exhibition of work by a range of varying artists that resonated with me. The first time I felt I could be deeply vulnerable with my complex history in such a public space. Simultaneously, I experienced utter and complete erasure. At one point during that day, while I was standing by a Barry Ace bag crying my eyes out, a woman who worked for the AGO actually came up beside me and said to her colleague "Oh isn't that interesting?! It says here that apparently, they were forbidden to dance or hold ceremony and could be imprisoned or even killed for it, and that this video was made because settler officials were visiting the island. So, they were allowed to perform for them. Oh, isn't that interesting? I did not know that." She did not notice me or the fact that I was crying. Me and my pain were completely invisible to her. She made no connection to the trauma of that "fact" or the implications of that "fact," it was simply interesting consumable history that happened to people of the past.
At the end of the exhibition there were postcards people could leave for canada and its government, as means of reflecting upon what they saw; many of them said things like "I don't really care about the harsh history of canada to Indigenous people, I think canada is doing a great job and should keep it up" or "I didn't know about canada's history with Indigenous people and I'm glad canada is doing better now."
I guess in my head I thought that this specially curated exhibition of all Indigenous art would be this safe place from the ignorance of canada day, and in the end it just reinforced how far this country still needs to come. People think that giving space, however big or small, to Indigenous art, literature, and people means that they are doing the work of reconciliation, when the real work, teaching respect and genuine interest in Indigenous art, literature, and people is overlooked and often absent.
Morrisseau and Riopelle were alone in a room together, directly across from one another on the wall, and people stopped to take selfies or stare for long periods of time at Riopelle and didn't give a second to Morrisseau. One of the most successful Indigenous painters of all time was still made invisible.
What sorts of things do you look for in the literature that you read?
For me reading is much like submitting, in the sense that it is a visceral gut process. Something either feels right or it doesn't. Many decisions I make are very situated in the body, so I'll read anything that feels relaxed or welcomed in the body.
Any current writing projects you are working on that we can look forward to?
Currently I have been pretty consumed by playing a Mohawk mid-wife in a play about the war of 1812. In terms of my own writing, I have been submitting my full-length poetry manuscript and am working on two chapbooks of poetry. One chapbook is a single experimental break-up poem following the course of Entropy through different situations, the other is a collection of response poems to the political climate of Trudeau's Liberal Government. I am also hoping to start a project to create a future mythology of how Indigenous languages became extinct. This project would use the United Nations Declaration of Language Endangerment as a source text for erasure poems. I am hoping to have this project collaboratively created by many artists.
*"Your ancestors have been waiting for the one with the pen" is advice from a friend of mine about writing in a cultural diaspora.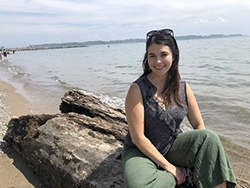 Julia Aguiar
* * * * * * * *