Tap into the Tension: Paul Monfette in Conversation with Francesca Ekwuyasi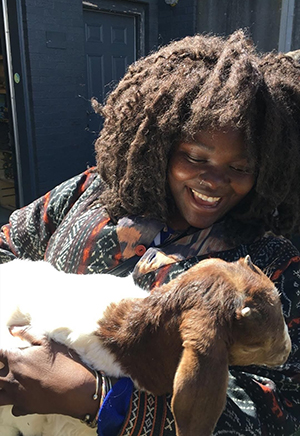 Malahat Review volunteer Paul Monfette talks with Open Season Awards fiction judge Francesca Ekwuyasi about stories that linger in your psyche, using themes as writing prompts, and prioritizing reading the works of Black Femmes.
Francesca Omolara Ekwuyasi is a writer and filmmaker from Lagos, Nigeria. Her work explores themes of faith, family, queerness, consumption, loneliness and belonging. You may find her writing in Winter Tangerine Review, Brittle Paper, Transition Magazine, The Malahat Review, Visual Art News and GUTS Magazine. Her short documentary Black + Belonging screened at the Halifax Black Film Festival in March 2019; and she is currently at work on a film project which navigates the intersections of queerness and faith.
Sometimes I gear my writing toward a particular contest I am entering, and I'm not sure as a third-year writing student if this is a good thing. Do you ever write with a specific contest in mind that you may be entering? What are you looking for in a winning entry for this contest?

I tend to gear my writing more towards particular themes from lit journals rather than contests. I do this because themes can work as pretty brilliant writing prompts, and I love a good prompt. Whenever there's a contest I'm interested in, my main goal is to try and stay within the word limit as I tend to be a bit longwinded with my short stories!

For this contest, I'm looking to be moved. I want to feel something. I want to read alive sentences and feel viscerally immersed in the story. I'm interested in being haunted, not necessarily in a frightening way, but in the sense that the story lingers in my psyche long after I've finished reading.
I was very moved by the intimacy of your writing in, "Good Soil." I think the specificity of the relationships made this a universal theme of yearning and tapped me into that deep inner longing to be authentically myself. Has allegiance toward something outside of yourself and the conflict with inner desire often played a role in informing your writing?
I'm glad to hear that you were moved, that's typically my intention when crafting a story. The actual answer to your question is: yes, absolutely. I find the tension between obligation and desire fascinating and fertile ground for storytelling, particularly in fiction. There have often been areas in my life from which I can tap into that tension, and, for me, that adds a depth of emotion/feeling/passion that can, hopefully, create a moving story.
I am half French, and half Scots/Irish and especially in Quebec feel like an outsider since my French isn't great. How does the concept of othering inform your work?

As a relatively recent African immigrant to Canada, and as someone who embodies several other historically marginalized and othered identities, I've felt that there has been no option but to engage with ideas of othering in my creative work. However, I'm eager to move away from that, because the world is quite large, and an identity that is othered on one side of this globe may be dominant on another side. Yet, if I'm to be entirely honest, I've grown away from writing for an assumed audience that is the "dominant culture," or more blatantly in a Canadian context, white cis-heteronormative people. In my writing that looks like not explaining cultural references, not italicizing non-English words, and essentially, not pandering to an assumed white audience.

It seems to me that the fodder of our often (usually) difficult lives is the good soil out of which our writing springs and I am at times grateful for mine. If you could have one thing different in the hand of cards you were dealt, what would it be?

This is such a hard question because I think I am who I am because of the life I've lived and despite my occasional spells of self-loathing, self-flagellation, self-doubt, etc., I generally like myself. I think the changes I would choose would involve other people; I would have my grandfather, father, and brother live. My family lost all three of them within six years when I was a child, and I think their deaths, as well as the fallout of the loss, marked me with a deep sadness that has sometimes been hard to move through.

Who are your literary influences, and what is the cannon you adhere to and want to leave?

I don't know if these are influences as opposed to writers whose work I just adore and whose quality of work I hope to one day attain. They are:
Helen Oyeyemi
Nnedi Okorafor
Zadie Smith
Lesley Nneka Arimah
Buchi Emecheta
Octavia Butler
William Carlos Williams
Chinua Achebe
I don't adhere to any particular canon. I enjoy literature and want to devour all kinds of different genres and styles of work from various origins. Recently though, I've been prioritizing reading the works of Black Femmes.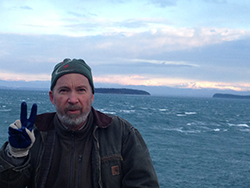 Paul Monfette
* * * * * * * *