Poesy, Academese, Ye Olde Literature: John Stintzi in Conversation
with George Elliott Clarke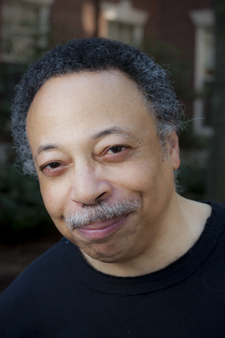 Malahat books reviewer and east-coast writer, John Stintzi, delves into sonnets, epic poetry, and literary traditions—and their counterparts—with Long Poem Prize judge and current Parliamentary Poet Laureate, George Elliott Clarke.
George Elliott Clarke has issued 16 poetry texts, four verse-plays, three opera libretti, two novels, two scholarly essay collections, and two edited anthologies. His plays and operas have all been staged, and his 2 screenplays have been televised. He has 3 titles in translation: 1 in Chinese; 1 in Romanian; and 1 in Italian. He lives in Toronto, but still owns property in his homeland, Nova Scotia. He is the E.J. Pratt professor of Canadian Literature at the University of Toronto. His newest book is The Motorcyclist, a novel (HarperCollins Canada), but also new are Extra Illicit Sonnets (Exile), which is amatory poetry, and Gold (Gaspereau), a miscellaneous collection.
As an emerging poet, I find I get this sinking feeling when a poem of mine becomes what one could call a "long poem." The long poem seems like such a luxurious, risky form, where few magazines seem to have space for them. I've actually been advised not to write them because they're almost impossible to publish. Having recently had your long poem "Othello: By Donatien Alphonse Francois, Marquis de Sade" published in the Summer 2016 issue of the magazine, I'm curious: what was your first long poem, and what do you think draws us into writing them (despite more practical advice)?
John, that's a great question. My first long—or longer—poem publication was also my first poem publication: "Watercolour for Negro Expatriates in France," which I wrote overnight from December 31, 1978, to January 1, 1979. Instead of celebrating the coming year by going out and partying ("like it was 1999"), I sat up many hours in my maternal grandmother's kitchen, in Three Mile Plains, Nova Scotia, and wrote the poem, which was, in itself, a synthesis of all the African-American Black Arts—and European surrealist—poems that I'd been reading as I began writing poetry when I was 16, in 1976. The poem takes up about 3 pages in most printings of it, and was first published in Caribe, a now-defunct, African-Caribbean-Canadian, literary journal. I think I was drawn to write it because of the example of Ezra Pound's The Cantos, which I'd read snatches of as a teen. But I shouldn't omit Bob Dylan's longer songs, such as "Hard Rain" or "Desolation Row" or "Sad-Eyed Lady of the Lowlands."
In looking at your long poem "Othello: By Donatien Alphonse Francois, Marquis de Sade," which draws on Shakespeare as well as the Marquis de Sade, alongside your book Traverse (an autobiographical sequence of what you dub "rap sonnets"), it's clear that you're very interested in the literary tradition. In Traverse, for instance, besides mentioning many writers (like Shelley and Baldwin and Pound) and re-tooling the sonnet, you use the archaic (medieval, I believe?) convention of capitalizing nouns to personify them ("Love," "Literature," "Gravitas," and "Lechery" being some examples). What does being a writer mean to you in terms of responding—either as a devotee or a combatant—to the literary tradition?
Just as I was drawn to Pound's Cantos and Cathay as a youth, so did I become infatuated with John Milton's Paradise Lost—as an epic. Not only did it teach me the blank verse line and form, it also made me think—like poets of yore—of some nouns, abstract especially, as deserving the exoticization of an initial majuscule letter and italic slants. But I also came to look back at Milton, Pound, the Bible, blues singers, Shakespeare, Shelley, etc., as model/exemplary voices, but also as aggressive geniuses that one must do one's best to stave off—along the lines set out in Harold Bloom's Anxiety of Influence.
In your poem "Othello" you use a great deal of explicit language and imagery, and while the majority of this language is natural when writing in Sade's voice, the autobiographical voice in Traverse certainly doesn't shy away from what some readers could call "vulgar" or "unpoetic" language. My favourite—due to a love of Chaucer—is your use of the Middle English "queynte" in the first sonnet. What I like best in Traverse particularly is the way the diction moves from "high to low." In Sonnet XXXVIII you write about your book Whylah Falls:
     Yeah, I was tryin to blast open the dam
of ice-clogged, log-jammed, Canuck poesy
      to repatriate Flanders' Fields
to Nova Scotia, to rose-bower the pimp-whipped whores
      circlin and short-circuitin ye olde Literature.
There are a many wonderful examples of this play in Traverse, but the juxtaposition of Canuck/poesy as well as rose-bower/pimp-whipped are about as wide a gap from one another on the diction-hierarchy as possible. Do you think a poet's job is to make language roil and clash like this? Might there perhaps be as much poesy in the Urban Dictionary as the Oxford English?
John, thanks for noticing my Africadian—African-Nova Scotian—tendency to exploit all of my linguistic heritages (as much as possible): Haligonian trash talk, African-Nova Scotian Vernacular, BBC English, CBC parley, Afro-American "Ebonics," Nova Scotia and Newfoundland glossaries, academese, blues-song and folk-song idioms, biblical speech (KJV), etc. I like to think of myself as possessing—or being able to access—a medley of dictions, to conjoin the highfalutin and the low-down, the classical and the grungy, the educated voice and the lover's moans. Anyway, the Oxford English Dictionary—writ large—contains the Urban Dictionary….
As a double-agent, in that I write fiction as well as poetry, I'm curious about your thoughts on the difference between the long poem and the novel compared to their shorter sisters (the not-long poem and the short story). Many fiction writers have issues with writing the short story because they feel it's much more rigorous and technically demanding than the novel—which, as a sort of marathon, allows and almost demands some looseness. When it comes to the long poem versus the not-long poem, I personally feel the opposite. I feel like the density of the long poem's demands are almost identical to those of the shorter poem (while it does seem capable of focusing on several main subjects, like the novel). Being yourself a poet who has come over to the dark side, having written the novel George and Rue, I'm curious: what similarities and differences do you see between the novel and the long poem versus their slimmer kin?
This question is august, gargantuan, impossible…. I can only come at it as a poet who has written two verse-novels, namely, Whylah Falls (which is, technically, a narrative lyric suite), and I & I (which could be read as a mini-epic or epyllion). I've also just published the first half (at 460 pages) of my first book of my epic trilogy, Canticles. Canticles I (mmxvi) and (mmxvii) is a 900-plus-page epic of lyric pieces, but I still claim it as being an epic because my study of the form tells me that the epic can be any longer-poem (or set of poems as in Pound's Cantos) that is a narrative or the worrying of a theme, a thesis…. I think the verse-novel, the epic, the narrative lyric suite all have affinities with the capaciousness of the novel by providing dramatic episodes and characters that play out against an expansive setting and/or an expansive time-period, with due space allotted for digressions, catalogues, sub-themes, etc. The (shorter) lyric poem is essentially a monologue or a solo-voiced song on one dominant mood or setting (though Lord Tennyson's Maud, might best be read as a long lyric with short lyric interludes). The short story is usually built around a moment or instant of epiphany, which is not necessarily akin to a climax in a novel, nor are such moments of supposed resolution essential to the narrative lyric suite. (Ondaatje's Collected Works of Billy the Kid climaxes, one may suppose, with the outlaw-hero's murder, but there's plenty of afterlife left in him, so to speak, and so the work may defy resolution.) My verse-novels do end, but I'm not sure my epic does: The subject is imperialism and slavery, and neither of those oppressions has come to any end either. However, most novels and most lyric poems and most short stories do come to a definitive end, if not always a satisfying resolution. However, the epic and the narrative lyric suite may escape—or tend to escape closure: I think of Pound again, but also of the Finnish national epic, The Kalevala, and the African-American epic poem, Harlem Gallery, by Melvin B. Tolson, which only "ends" because it was never completed.
Speaking of your novel, both George and Rue and your collection Execution Poems: The Black Acadian Tragedy of George and Rue (winner of the Governor General's Award for Poetry in 2001) are centered around the same incident (two brothers who killed a taxi-cab driver in New Brunswick in 1949, and were executed for the crime). What do you think brought you to write a novel after finishing the collection? Was there something about this story that you needed to say, but weren't able to get at through poetry? Or did you perhaps unearth something through the collection that demanded the novel?
My original intent was to include the lyrics of Execution Poems—which is a narrative lyric suite—in the novel, George and Rue. Indeed, the poetry actually echoes my initial characterizations of the brothers, especially Rue, as disaffected, alienated, would-be (or quasi) intellectuals. The poems were mainly written during a one-week trip to Fredericton and Saint John, NB, to research the crime, interview witnesses, and get a feel for the locales. However, HarperCollins Canada rejected—rightly—the overly intellectual first draft of the novel, while, simultaneously, Gaspereau Press decided to publish the poems as an experiment in high-quality, letter-press book and chapbook design. Thus, instead of being part of the novel, the poems of Execution Poems ended up preceding the publication of George and Rue by four years. As it turned out, both books won prizes (!), for poetry, fiction, and book design, though the separate publication of the poems was an accident, or even a crime, and, if so, the credit-blame falls upon Andrew Steeves, the design wizard behind Gaspereau Press. I should say, too, that the novel ended up yielding two "believable" protagonists, the now clearly illiterate, but still poetic-in-speech brothers.
Now we circle around for the timely question: as a judge of The Malahat Review's Long Poem Prize (not to mention other prizes, like the Pacific Spirit Poetry Prize with PRISM international)—but also perhaps more widely as a reader of poetry—what exactly is it that you hope to receive from a poem? What would you like it to do to you? How do you think you'll know when you've crossed paths with the winning long poem?
The winning poem will strike me as consistently absorbing, consistently well-constructed, consistently probing, and consistently resourceful in its narrative or thematic strategies. It should also seem a gesture toward the embrace—if possible—of posterity, that is to say, the interest and memories of poets yet unborn.
John Stintzi
* * * * * * * *