Crossing Senses: Kyra Kristmanson in Conversation with Tawahum Bige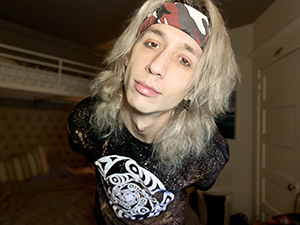 Tawahum Bige, whose poems "Fall fell and I dropped beneath the aspens," and "Sanctum" appear in The Malahat Review's winter issue #213, discusses synesthesia, spoken word, and seeking older writings in their Q&A with Malahat Review volunteer Kyra Kristmanson.
Tawahum Bige is a Łutselk'e Dene, Plains Cree poet and spoken word artist from unceded Musqueam, Squamish & Tsleil-waututh Territory (Vancouver). Their Scorpio-moon-ass poems expose growth, resistance & persistence as a hopeless Two Spirit Nonbinary sadboy on occupied Turtle Island. In typical Aries-sun fashion, Tawahum completed the first-ever Indigenous Spoken Word residency at the Banff Centre in 2018 while completing their BA in Creative Writing from KPU in 2019.
*
He's performed at Talking Stick Festival, Verses Festival of Spoken Word, Canadian Festival of Spoken Word, and at over 50 different venues from Victoria to Toronto with his mixture of poetry & hip-hop. Past the stage and onto the page, Tawahum has been published in over a dozen different lit journals & magazines including Red Rising Magazine, Prairie Fire, CV2, Arc Poetry Magazine and most recently, the anthology, Beyond Earth's Edge: the poetry of spaceflight! A prolific word-artist, Tawahum has three self-published chapbooks with poetry collections on the way including a collection-in-progress funded by the Canada Council for the Arts.
*
Beyond the page, Tawahum has battled the (in)justice system of BC and was eventually incarcerated for a 28-day sentence after a 2-year battle for his land protection work against Kinder Morgan/Trans Mountain's pipeline expansion. Of course, this doesn't stop him from grabbing a boom mic to amplify his words of resistance & resurgence at front-line rallies, street performances and more. Follow Tawahum on Instagram, Twitter and Facebook: @Tawahum.

There is a strong theme in "Fall fell and I dropped beneath the aspens," of moving between the spiritual and the physical—sometimes they intertwine as they do with sound setting. Did you intend to create the comparison when you initially crafted the poem, or did it form as you wrote?
Yes, this poem felt like a layering that formed as I wrote it. It actually came from an Instagram caption that began with "Fall fell and I dropped beneath the trees," of a picture of me taking a walk into Stanley Park and then I had to get up and write the rest. It's not often that a poem will be there for me to write out on the computer screen, but each line had its own form and breath that was cold autumn. When on the hunt for something deeper, spiritual connections to the physical landscape, it can't help but be influenced by the noises I hear in this urban environment, how I feel and connect and am shocked from it frequently. I'm nonetheless a little better for having tried and the connection is still there, even if it's hard to hear over the buzz.
Your use of unexpected juxtaposition creates a profound sense of peace within conflict, for example "Football fields are full / of empty" and "I heard the city quiet." Coupled with moments of synesthesia, this pulls the reader deep into the experience of the speaker. Do the descriptions flow from inspiration or do they require a meticulous selection of the right words?
It's all experience. The words just require me to pan my view, which almost feels like cheating when you're surrounded by the beauty of nature. To be granted a moment of peace from the buzz is enveloping and I'm just choosing what to highlight. Synesthesia is also a naturally built skill of a poet who writes on the land. Smells and sounds and sights meld together for us to hold the whole experience and crossing senses is definitely a technique I use, probably that is where I might be most meticulous.

I love the movement of "Sanctum"—between stuck and transformation, like a butterfly growing in a concrete cocoon. It gives the poem a fluid temporality in a fixed space. Is this a reflection of personal struggle or growth, or perhaps both?
I mean to be clear, this poem is after Julian Randall's "Palinopsia," in his book, Refuse. His form of the chunky block and the room metaphor was what I wanted to work with. In his poem, the room was all "walls," and described a dorm-living experience. To which I felt deep resonance and my own version, which was a basement, "holes." The tightness of that one paragraph of prose-poem allows it to all be one scene, one room, one whole. The rigidity of the form is how I can express how rigid that living circumstance was like, and what attempting to mature in it looked like. I could see the concrete cocoon now that you mention it.
Identity takes many forms in "Sanctum," both for the place and speaker. The room becomes holes, mansion, tomb, nightmare. The speaker shifts in similar ways, until they both become labyrinth. Are these many facets hinting at a deeper metaphor?
Ahh, a "deeper" metaphor, right, haha. I mean I think I'm speaking to how humans are already close to the land, we don't need to be underground. In fact, we need to come up for air and water and blue skies and sunlight. And whether you're in a mansion, dorm, apartment, basement suite, these are all fixed structures that we've attempted to stuff contemporary life into. The world continues to live around us in both beautiful and terrifying ways and we aren't ever separate from that, no matter how much we imagine we are.
You've done a lot of live performances in both spoken word and music in the past few years. I imagine the pandemic has impacted the potential for live shows, but what plans can we look forward to in the near future?
Just this past week in February, I filmed two Talking Stick Festival shows, as Host/MC for Virtual Medicines and performing a 10-minute set for From Talking Stick to Microphone. Both can be found on vimeo and through the Talking Stick Festival website: https://fullcircle.ca/tsf-2021-shows/. I am in the process of a couple of digital mentorships with Queer youth. Then, the big things, amidst the few virtual shows in the next few months, I have a poetry collection coming out in Spring 2022, am working on another collection with a Canada Council grant, and plan to release an EP of music before the end of the year.
Poetry, books, and music have kept me going over the last 12 months, giving me a place to find community and comfort, or sometimes an escape from reality. Have you read anything particularly inspiring recently? What's on your reading list for 2021?
I'm usually knee-deep in contemporaries but this year I'm seeking older truths. Right now, reading translated Rumi poems and Stranger Music by Leonard Cohen. I try not to plan the rest of my reading though, I like to be scattered about what comes into my sphere.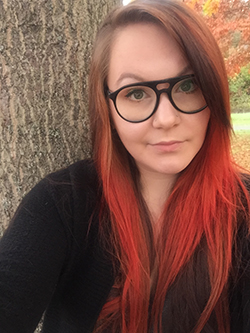 Kyra Kristmanson
* * * * * * * *