Congress @ Planet Earth

Friday, June 7 2013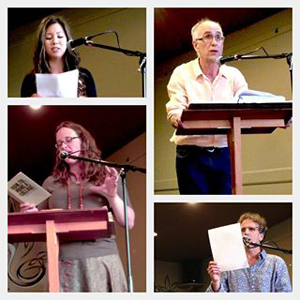 On Friday, June 7th, The Malahat Review, Congress, and the Planet Earth Poetry reading series joined forces.
At the open mic, we had one Congress attendee, Peter Midgley, read a praise poem about a sea serpent. Other readers were Paul Hanson, Sheila Martindale, David Trudel, Devora Levin, Barbara Pelman, Andrea Rain, Edeana Malcolm, our Assistant Editor Rhonda Batchelor, Teri-Ann Carter, Terry Jones, our poetry board intern Portia Elan, and Marita Dachsel.
After the open mic, we heard from Manitoba's Ariel Gordon, and then our poetry board member Kyeren Regehr took over hosting duties from PEP's Yvonne Blomer to introduce Malahat #182 contributor Cody Klippenstein, and Malahat board members Iain Higgins and Eric Miller.
View all photos on facebook.
Event Sponsors: