University of Victoria 50th-Anniversary Prize
Dramatic Monologue Winners


At the University of Victoria's Faculty of Fine Arts Alumni Night on October 30, 2012, The Malahat Review announced David Brock of Toronto, ON, Peter Boychuk of Vancouver, BC, and Jeff Forst of Nelson, BC as the first, second, and third place winners respectively in our UVic 50th Anniversary Prize in Dramatic Monologue! Our winners' pieces are published on our website, they have won $300, $150, and $100 respectively, as well as a one-year subscription to The Malahat Review.
First Place: "Ambassador Bridge" by David Brock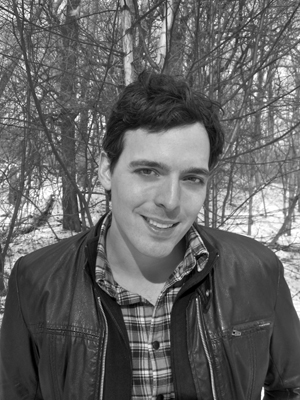 Congratulations to David Brock, 1st place winner of our UVic 50th Anniversary Prize in Dramatic Monologue!
As final judge, Michael Lewis MacLennan singled out this monologue and commented, "With impressive economy, specificity, and drive, the author has created a monologue that feels both wholly original and universal. We're witnessing a mind — and heart — at work, as the character retrieves a long-locked memory in the hopes it might help him grapple with a serious and profound dilemma. Never sentimental, the piece works towards a simple question that in its context, becomes truly moving. It's a monologue that perfectly achieves what it sets out to do."  
DAVID BROCK is a playwright, poet, and librettist. In 2011, his play Wet won the Herman Voaden National Playwriting Award, and he has also won a Theatre BC National Playwriting award and four Vancouver Island One Act Play awards. He has written two chapbooks of poetry: Gasmask Summer and Black Metal Melody, and his first collection of poetry is forthcoming from publisher Wolsak and Wynn in 2014. He penned the libretto for The Sloans Project, which premiered in the historic 250-year-old Sloans Pub as part of Glasgow's 2011 Merchant City Festival. Since its premiere, the opera has been remounted in Toronto for Tapestry New Opera Works' 2011/2012 season and Aberdeen's 2012 Sound Festival. In December 2012, a new song cycle written with composer Jack Perla will premiere with the Paul Dresher Ensemble in San Francisco: Pretty Boy, based on the life of gangster Pretty Boy Floyd. He is currently working with composer Gareth Williams on Breath Cycle, a multimedia operatic song cycle to be developed with cystic fibrosis patients. David received his MFA from the University of Guelph and teaches at Humber College in Toronto. Follow him on Twitter @davidjamesbrock.
Read David Brock's From "Ambassador Bridge"
Second Place: "Fritters in Kandahar" by Peter Boychuk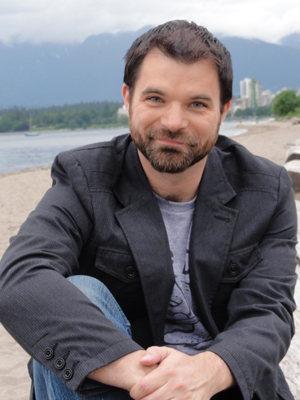 Congratulations to Peter Boychuk, 2nd place winner of our UVic 50th Anniversary Prize in Dramatic Monologue!
Of our second place winner, our final judge, Michael Lewis MacLennan, had this to say: "With this monologue, the author has realized a deliciously flawed and vibrant character — there's a lightness and ease to the voice, which is harnessed by carefully crafted writing. The monologue deftly balances humour and pathos, leading to a turn and resolution that hits its target."
PETER BOYCHUK studied acting at Studio 58 and holds an M.F.A. in Playwriting from the University of Victoria. His plays include Shelter from the Storm (Touchstone Theatre/PTC/Firehall Arts Centre); Afterglow (published in the anthology Two Hands Clapping by Signature Editions); Fortunate Son (winner of the Stanley Mills Purchase Prize, Honourable Mention in the Canadian National Playwriting Competition, and Best of the Fest at ACToberfest 2007); Red Mitts (2011 BC Buds showcase); and Chainmail Bikini (Calgary Fringe Festival). He occasionally treads the boards as an actor and has directed the premieres of several new plays, most recently Prodigals by Sean Minogue for Twenty Something Theatre. Peter grew up in Whitehorse, Yukon and lives in Vancouver with his wonderful wife, Joan and their curmudgeonly cat, Leo.
Read Peter Boychuk's "Fritters in Kandahar"
Third Place: "Cop Shop Grow Op" by Jeff Forst
Congratulations to Jeff Forst, 3rd place winner of our UVic 50th Anniversary Prize in Dramatic Monologue!
Of our third place winner, final judge Michael Lewis MacLennan had this to say: "Here's a virtuosic piece of writing built on a high-stakes dramatic scenario to keep this hefty monologue aloft. Through humour and propulsive writing, the writer succeeds in touching on the character's darker corners without sinking the piece in a maudlin languor. Within all this, it offers a trenchant if subtle examination of a longstanding conflict — the stuff of good drama."
JEFF FORST lives with his happy family of three in Nelson, BC. He's a theatre artist, coach, and active-travel trip leader whose creative writing hobby is emerging as a pro reality. His work has appeared in such places as Kootenay Mountain Culture, SKAT, The Martlet, The Peace Arch News, and The Nelson Quarterly. Playwriting credits include Fore-play and Padre. Jeff's directed over forty productions since obtaining his English Lit degree from UVic and industry experience with the Gastown Actors Studio. His current projects are: Nelson Youth Theatre's original play Zombie Apocalypse; the Bard in the Bush fest; and a utopian fantasy novel called The Breeding.
Read Jeff Forst's "Cop Shop Grow Op"
About our final judge:
MICHAEL LEWIS MACLENNAN divides his time between Toronto, Vancouver, and Los Angeles. His plays have been produced throughout Canada, Europe, and the US. Plays include Beat the Sunset, Grace, The Shooting Stage, Last Romantics, Life After God, and The Good Egg. He has won a Jessie, two Voaden Prizes, the Theatrum National Playwriting Award, and was twice nominated for the Governor General's Literary Award.
As screenwriter, Michael has been nominated for six WGC Screenwriting Awards. He was co-executive producer of Queer as Folk, creator/executive producer of Godiva's and JPod, consulting producer on Being Erica and Flashpoint. He has written two pilots each for CBS, ABC and CBC. His latest creation is Bomb Girls, the country's top-rated new series, which has recently been renewed.
The Malahat Review thanks all the entrants for their continuing support.