University of Victoria 50th-Anniversary Prize
Creative Nonfiction Winners


At the University of Victoria's Faculty of Fine Arts Alumni Night on October 30, 2012, The Malahat Review announced Heather Simeney MacLeod of Kamloops, BC, Katherin Edwards of Kamloops, BC, and Charlotte Helston of Armstrong, BC as the first, second, and third place winners respectively in our UVic 50th Anniversary Prize in Creative Nonfiction! Our winners' pieces are published on our website, they have won $300, $150, and $100 respectively, as well as a one-year subscription to The Malahat Review.
First Place: "To Discover the Various Uses of Things" by Heather Simeney MacLeod
Congratulations to Heather Simeney MacLeod, 1st place winner of our UVic 50th Anniversary Prize in Creative Nonfiction!
As final judge, Barbara Stewart singled out this story and commented, "This elegant narrative explores and transcends the writer's personal grief through the universal philosophies of Martin Heidegger and Indiana Jones while achieving the best of creative nonfiction: a just-right balance between reflection and research that engages both the heart and mind of the reader. In fact, Heidegger is not named, nor does he need to be, so well are his ideas distilled, for all readers to benefit from the narrator's quest to answer the riddle posed by cancer, death, memory, and artifact: What is this? The essay's structure brilliantly mirrors the fragmented nature of trauma and loss, spirals to a conical centre, and returns the hourglass to Karl Marx who echoes the title. We time-travel from AD345 Constantinople to 1935 Saskatchewan; we hunt treasure like Indiana Jones from the Florida coast to the Judean desert. The writer's poetic and rich offering of the exquisite telling detail, a mourning locket, fixes the 'diaphanous' for the reader: 'I whispered to the fragment of Richard; to the relic of Richard, to the thing, to the whatness of what Richard was, I whispered; to the remains of Richard, I breathed across the length between what was living and, now, what is dead, I recollect.'"
 HEATHER SIMENEY MACLEOD grew up throughout various regions of British Columbia, the Yukon, and the Northwest Territories. She is currently a Ph.D. candidate at the University of Alberta in the Department of English and Film Studies and is awaiting her defense. Heather completed her Masters in Social Sciences at the University of Edinburgh, and her Bachelors in Arts is from the University of Victoria. Heather's dissertation is in contemporary American film and fiction, and she is currently working on a novel.
Read Heather Simeney MacLeod's "To Discover the Various Uses of Things"
Second Place: "The Language of Flowers" by Katherin Edwards
Congratulations to Katherin Edwards, 2nd place winner of our UVic 50th Anniversary Prize in Creative Nonfiction!
Of our second place winner, final judge Barbara Stewart had this to say: "We do not think of roses in terms of weight or hot water extending the life of carnations. Nor do we consider a vocabulary with a shelf life, wilting as if human, expressing relationships both in bloom and decay. The writer invites the reader behind the counter of an ordinary work place, whose products when translated by a life-long skill and passion, become metaphors for our dilemmas, loves, our lives. Readers learn about the 'science of flower care,' the construction of wreaths and wedding bouquets, and the failing memory unpredictable as hibiscus: 'The next day it may bloom again, from a different stem. It may remember itself. It may not.' The insider jokes, ants escaping peonies, doghouses on enclosure cards, the wealth of specific detail establishes the veracity of the writing. When we conclude at a bedside table in a care facility, we understand the vacancy, 'perfect for a vase of flowers,' that speaks to the heart of what we cannot say." 
KATHERIN EDWARDS has worked as a groom and exercise rider of thoroughbred racehorses in Calgary, Edmonton, Vancouver, and England. After spending seven years on the track she returned to her hometown of Kamloops and pursued a horticulture degree before going to work in the floral industry. In 2003, and needing a change, she relocated to Victoria where she was accepted into the the creative writing program at the University of Victoria (grad of 2007). She is currently completing her MFA through the Optional-Residency program at the University of British Columbia. Her poems have appeared in This Side of West and The Malahat Review. She has won or placed in various writing competitions, including the Okanagan Contest for short fiction and the Eden Mills Writers' Festival Poetry Contest. She calls Kamloops home and continues to work as a floral designer as she scribbles her way through a novel.
Read Katherin Edward's "The Language of Flowers"
Third Place: "Trailer-Warming" by Charlotte Helston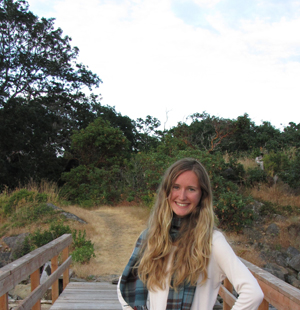 Congratulations to Charlotte Helston, 3rd place winner of our UVic 50th Anniversary Prize in Creative Nonfiction!
Of our third place winner, judge Barbara Stewart had this to say: "'You guys actually live here?' The conversational tone of this thoughtful personal essay invites us to the scene of the narrator's testing ground, her new temporary home, a 16-foot travel trailer set up off a logging road in the Armstrong wilderness. The opening question is both public and personal, challenging the narrator and the reader to explore traditional notions of 'interior' and 'exterior' lives: 'Don't you get claustrophobic in here?' Using a guided tour as a device to establish the setting also works to relate how the narrator's expectations are challenged by that other guided tour, a sanitized and commercially viable life. But here, instead of less, the narrator discovers more in vivid imagery: a slab of old kitchen counter outside where sweet pea vines grow the living room. Elbow to elbow, around the timeless night fire, we ponder our definition of lack and supply: 'The trailer had taken away square footage, but it had given us space in our lives for things we didn't know we needed.'"
CHARLOTTE HELSTON resides in Armstrong, BC, a small town in the Okanagan Valley. She lives with her partner Matt and their dog Isis in a travel trailer parked in a forest of pines, woodpeckers, and roving black bears. You can follow her adventures living small on her blog. Charlotte's writing has appeared in Island Writer, Adventum Magazine, and This Side of West. During her undergrad at UVic, Charlotte was the editor of ESSENCE, an environmentally themed periodical put out by the Environmental Studies Student Association (ESSA). Charlotte is an advocate of the tiny homes movement and a firm believer in the rewards of living small and simply.
Read Charlotte Helston's "Trailer-Warming"
About our final judge: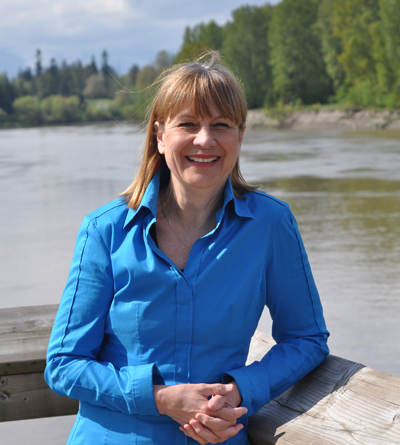 BARBARA STEWART has a Bachelor of Arts (With Distinction) from the University of Victoria's Writing Program. While she completed her degree, she served on the editorial board for The Malahat Review. Her writing and photography has been published in various newspapers and magazines, including National Geographic, Johannesburg Star, EVENT, Grain, and The Walrus. Barbara was shortlisted in the 2008 CBC Literary Awards for non-fiction and the 2009 EVENT Creative Nonfiction Contest. In 2011, Tightrope Books in Toronto published "The Arms of My Inheritance" in The Best of Canadian Essays 2011 and Heritage Publishers in Victoria released Campie, her first book. Barbara has recently been accepted into the UBC Optional Residency MFA Program. She now lives near Fort Langley, B.C., and is working on her next book.
The Malahat Review thanks all the entrants for their continuing support.