P.K. Page Founders' Award for Poetry
2014 Winner
The University of Victoria, on behalf of The Malahat Review, is pleased to announce that this year's recipient of the P. K. Page Founders' Award for Poetry is Bruce Rice for his poem "Into the Wind," which appeared in The Malahat Review's Summer 2013 issue (#183). Rice's poem was chosen for this award by Anne Simpson.
The P. K. Page Founders' Award for Poetry recognizes the excellence of The Malahat Review's contributors by awarding a prize of $1000 to the author of the best poem or sequence of poems to have appeared in the magazine during the previous calendar year. The winner, selected by an outside judge who is recognized for his or her accomplishment as a poet, is announced prior to the publication of The Malahat Review's Spring issue.
Of Rice's poem, Simpson says: "'Into the Wind' is a plainly spoken poem, yet it has the largeness of the land. This is implicit in its long lines, moving―even meandering―across the page. It allows us to hear that 'frail silence' between brothers, between the living and the dead, in this deeply meditative elegy."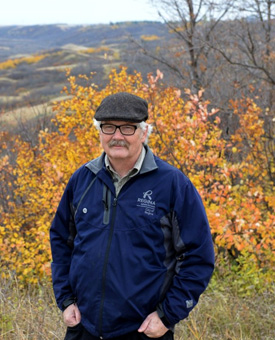 Bruce Rice grew up in Prince Albert, Saskatchewan, and later moved to the Maritimes, where he attended St. Thomas and Dalhousie universities, and did community development in Halifax-Dartmouth. His fifth poetry collection for adults, The Trouble With Beauty, will be published in April 2014 by Coteau. His first book, Daniel, received the Canadian Authors Association Award, and his collection, Life in the Canopy (Hagios Press), was nominated for Saskatchewan Book of the Year in 2009. He recently published his first children's book, Dorothy McMoogle With Kumquat and Bugle (Wild Sage). In addition to writing for the page, he has frequently participated in poetry performances and interdisciplinary collaborations. Bruce and his wife, Joanne, live in Regina and have two grown children, Keegan and Mira.
Anne Simpson is a writer of fiction, poetry and nonfiction. She has won a number of awards for her poetry, among them the Griffin Poetry Prize for Loop. As well as her four books of poetry, she has written two novels: Falling, longlisted for the International IMPAC Dublin Literary Award; and Canterbury Beach. Her book of essays, The Marram Grass: Poetry and Otherness, delves into issues of poetry, art, and empathy. She has been a writer-in-residence at libraries and universities across Canada, and was invited, recently, to do a short residency with the Osu Children's Library in Ghana. In the Fall of 2013, she was the Mabel Pugh Taylor Writer-in-Residence at McMaster University and the Hamilton Public Library.
The P. K. Page Founders' Award for Poetry honours the celebrated Victoria poet's contribution to Canadian letters. It is made possible by a financial donation to The Malahat Review by P. K. Page in recognition of her long association with the magazine and as a gesture of her deep appreciation of her peers in the local and national literary communities.
P. K. Page (1916-2010) was born in England and came to Canada in 1919. Educated in England, Calgary, and Winnipeg, she studied art in Brazil and New York. She first came to the attention of the readers of Canadian poetry in the 1940s through her association with and regular appearances in Preview, a Montreal-based literary magazine key to the establishment of modernism in Canada. Her first important publication, Unit of Five, an anthology published by Ryerson in 1944, was followed by an impressive series of books of poetry, fiction, and memoir that display a characteristic love of ideas and a distinctive use of language that have won her admirers around the world. Her contribution was recognized early, when The Metal and the Flower (McClelland and Stewart) won the Governor General's Award for Poetry for 1954. Her recent books of poetry include Hologram (1994), The Hidden Room: Collected Poems (1998), Hand Luggage (2006), The Filled Pen: Selected Non-fiction of P. K. Page (2006), and Up on the Roof (short fiction, 2007). Under the name P. K. Irwin, her paintings and drawings have been exhibited widely and are held in public and private collections across Canada.
For more information about the P. K. Page Founders' Award for Poetry and how you may support it through a donation, please email The Malahat Review.
Read a interview with Bruce Rice on his Founders' Award win.
Previous P.K. Page Founders Award for Poetry Winners
2013
2012
2011
2010
2009
2008
2007