General Submissions Open
The Malahat Review reads all year 'round and welcomes submissions of poetry, fiction, and creative nonfiction from writers at all stages of their careers. Submit your work for free and, if accepted for print, receive $65 CAD per published page.
Read our general submission guidelines on our website.
Fall Issue Interview with Yilin Wang on Fiction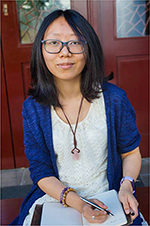 Malahat Review volunteer Andrea Perez talks with the Issue #208 contributor about early drafts, family trauma, and intergenerational relationships among women.
AP: What's something that stayed constant from the first to the final draft of "Fault Lines," and what is something that you edited out of the story?
YW: In my early drafts, the story had a very different beginning. I originally started my story by depicting the meeting between Dai Ying and Cheng, where Dai Ying offers to pay Cheng money to "rent" him as a "boyfriend" for her visit home during New Year's celebrations. But as my story evolved, I found that the original beginning was too distracting from my central storyline – the relationship between Dai Ying and her grandma. I removed that earlier section and included some hints of that backstory. My focus on Dai Ying and her grandma's intergenerational relationship remained the same throughout my editing process.
Read the rest of Yilin Wang's interview as well as an excerpt of "Fault Lines" on our website.
Fall Issue Interview with Anuja Varghese on CNF
Malahat Review volunteer Kelsie Tan talks with the Issue #208 contributor about cultural expectations, academic vs. creative writing, and inspirational queer women of colour.
KT: Retrospect plays a large role in "Stop Rewind." Do you think that writing this story has helped you understand your perspective as a child within these circumstances?
AV: I have spent a lot of time asking myself, why didn't anyone stop what happened from happening? Why didn't I stop it? Why didn't my parents stop it? Why didn't my sister stop it? I think I probably understand my perspective as a child who was born and raised in Canada, in a middle class home, the most clearly. I had no understanding at the time of how heavy the weight of cultural expectations can be, nor any ability to anticipate or stop their crushing repercussions. If anything, writing about what happened helped me understand some of the other perspectives at play and how the pressures that other members of my family were facing might have led to choices that to me, seemed incomprehensible, but to them, seemed unavoidable. Seeing as I am not close to my sister, my father has passed away, and my mother is not the explaining type, writing this story now, as an adult myself, is sort of the only way I know to seek answers to the questions that linger around these events.
Read the rest of Anuja Varghese's interview as well as an excerpt of "Stop Rewind" on our website.
Fall Issue Interview with Jun-long Lee on Poetry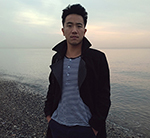 Malahat Review volunteer Samuel Strathman talks with the Issue #208 contributor about his creative routine, reading Russian poetry, and where his poem was written.
SS: Where did the inspiration for "Lightcarrion" come from?

JL: For the last three years, I have been moving back and forth between Canada, the Caucasus, Crimea, and Eastern Europe. I have noticed changes inside a body that is questionably mine: a layered density, its multiplication; a cyclical moulting; ritual mournings when something is misplaced or buried. "Lightcarrion" was written inside a house that is transparent, constructed from foliage and light. When you begin to resemble a plant, other bodies take on a different meaning. Yours, in the eyes of the transformed and transforming, takes on a different one too.       
Read the rest of Jun-long Lee's interview as well as "Lightcarrion" on our website.