Less Than Four Weeks Left Until February 1 Deadline!
Dust off and deliver your novella—this biennial contest won't be back until 2020!
Submit your 10,000 to 20,000 word story for a chance to win $1500. Previous winning entries have also won or been nominated for National Magazine Awards for fiction and the O. Henry Prize.
Entry fee (comes with a one-year print subscription):
$35 CAD for Canadian entries
$40 USD for entries from the USA
$45 USD for entries from elsewhere
Additional entries cost $15 CAD from anywhere, no limit!
This year's judges are Jacqueline Baker, Eliza Robertson, and Richard Van Camp. Click their names to read interviews with the judges on what they'll be looking for in this year's submissions.
Full contest guidelines available on the Malahat website.
Interview with Nancy Holmes, Constance Rooke CNF Prize Winner for 2017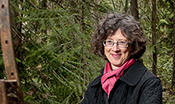 Malahat volunteer Lauren DeGaine talks with Nancy Holmes about lyricism, Flaubert's letters, and the limitations of language in her winning essay.
LD: In "Flaubert's Hummingbirds," you argue that there is something important to be gained by being "more specific, more curious, and more discerning."

NH: It is tough to balance being wide open and being skeptical, and I usually fail by slumping over on one side or the other.  So much interferes—expectations of others, judgement, fear, language limitations, personal weaknesses,  ideologies, trends, careerism and other isms, ignorance, entrenchment etc, etc.  For me, trying to be true to my own experience, my own embodied experience of being alive and being in place are my lessons, my constant lesson.  And doing this without stopping reading and being curious about others and other places and perspectives.  
Read the rest of Nancy's interview on the Malahat website.
Winter Issue Interview with Jan Conn on Poetry
Malahat volunteer Chloe Hogan-Weihmann talks with Jan Conn about synaptic clefts, peony seeds, and the onset of spring.
CH-W: What made you choose a peony specifically as opposed to a different flower? What makes the peony an important symbol for you?  

JC: I chose peony because we have a very lovely one, a Japanese woodland peony, in our garden. It's one of the first to flower, and the petals are ivory-coloured and elegant. The flower centre is a stellar pink. Later in the season, when the seed pods open, there are two vivid colours of seeds: the fuchsia ones, slightly smaller and a little wrinkled, are aborted, and will never germinate; but the bright indigo ones are viable. The fuchsia seeds are possibly a decoy for seed predators (birds or insects) – their brighter colour is attractive but they are not nutritious, so if the predator tastes then rejects them they might not try the indigo ones, which are interspersed among the fuchsia. It's a trade-off. Some seeds are "sacrificed" so others can germinate.
Read the rest of Jan's interview on the Malahat website.
Winter Issue Interview with Irena Karafilly on Fiction
Malahat volunteer James Kendrick talks with Irena Karafilly about early childhood, exposure as a writer, and unnerving dental experiences.
JK: You're working on finishing up a book right now—could you talk a little bit about what it's about, and why you're excited about it?

IK: Walking The Dog is a collection of short stories, some of them previously published or broadcast over the CBC. The stories deal with rather ordinary relationships and activities, which, for one reason or another, go awry, often illuminating larger concerns. I have been writing short stories for many years, but this is only my second collection. There are stories about childhood, adolescence, old age; about marriage, parenthood, sibling rivalry, etc. I have travelled widely, so the stories are set in various countries, but the issues they explore are, I think, universal.
Read the rest of Irena's interview on the Malahat website.