Open Season Awards: November 1 Deadline!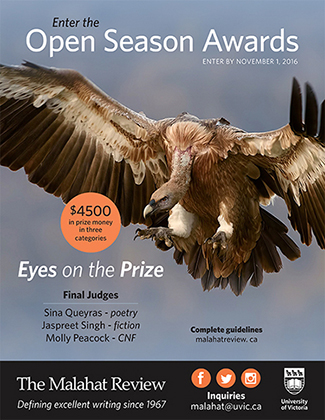 There's less than four weeks left to submit your work!
Writers of all genres are encouraged to enter this year's Open Season Awards for a chance at $4,500 in cash prizes.
Contest judges Sina Queyras, Jaspreet Singh, and Molly Peacock are awaiting your submissions of poetry, fiction, and creative nonfiction! Writers can enter any or all categories. Additional entries cost $15 and there's no limit.
For poetry: submit up to 3 poems per entry, max. 100 lines
For prose: submit one piece of fiction/CNF per entry, max 2,500 words
Entry fees vary by location. All entrants will receive a one-year subscription to The Malahat Review.
Full contest guidelines available on the Malahat website.
Autumn Issue Poetry: Interview with Erin Kirsh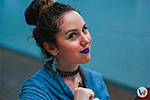 Malahat interviewer Jess Taylor recently spoke with Vancouver slam poet and Malahat author, Erin Kirsh, about her upcoming Autumn Issue #196 poem, "Attachments Anyway." In this interview, Kirsh discusses the interplay between poetry and spoken word, her relationship with Vancouver, and up-and-coming poets to discover.
Listen to Erin Kirsh's recorded reading of her Malahat poem.

JT: This poem both seems to be a critique of Vancouver and a celebration of it. Was this what you were going for, or did you see the poem as exalting even annoyances and disappointments? Or was the poem just about letting everything go for you, acknowledging that everything that is here will one day not be?
EK: A little bit of all of that. I have a lot of immoderate ambivalence for Vancouver, and that all came out in this poem. I aim for a sort of zen neutrality in my life, which is hilarious, because I think neuroses make up 92% of my personality. But I think one of the only ways to cope with living in Vancouver is to sort of face plant into impermanence.
Vancouver is this incredible jewel of a city, and I love it so deeply, but since I moved out here in 2008, I've seen so many little hubs—arts venues, book stores, chocolate shops, record stores, my favourite Indian food place—disappear because it's so difficult to survive here. These places were all places that felt like home, and that built community in a somewhat socially isolating city. It feels symbolic when they can't make it.
Read the rest of Kirsh's interview on the Malahat website.
Using Your Good Arm:
The Practice of Pitching
October's Publishing Tip comes to you from Canadian writer Phoebe Wang. In her article, she explains why writers should submit pitches to publishers, editors, and literary journals, and she encourages emerging writers to start pitching early.
Pitching season, for a writer, happens all year round. It may not require a uniform or strong-arming a potential editor, but it does take some precise handling. A strong and coherent pitch can not only result in an editor's interest and a publication credit, but it might even help to establish a long-term relationship that benefits everyone on the playing field.
What is a pitch and why do it?
You don't need pitch works of fiction or poetry—send out your sample along with your query letter as per usual. Pitches are typically necessary for magazine features, opinion or think-pieces aimed at a general audience, as well as for interviews, reviews, essays and criticism for a non-academic, yet in some ways, specialized readership.